Tony Blair says Tory election victory & EU referendum would cause 'chaos'
Published time: 7 Apr, 2015 11:59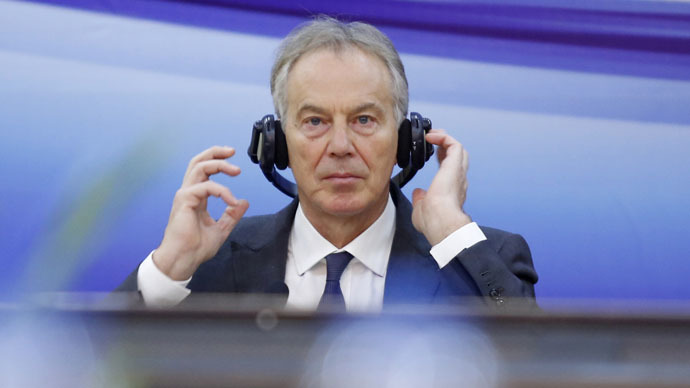 Tony Blair waded into the Labour Party election campaign on Tuesday, warning voters that a Conservative victory in May, leading to a referendum on Britain's EU membership, would plunge the nation into a period of instability not seen since World War II.
Speaking at an event in his former constituency, the three-time prime minister said PM David Cameron had been forced into discussing the possibility of a referendum due to the surge in UKIP support.
He said Labour leader Ed Miliband, by contrast, was showing "real leadership on the EU."
Blair also backed Miliband's ability to lead the country, saying he admired the way he had shown "he is own man with his own convictions and determined to follow them, even when they go against the tide."
The former PM attacked Cameron, saying his pledge to offer a referendum was "aconcession to his party, a maneuver to access some of the UKIP vote, a sop to the rampant anti-Europe feeling of parts of the media."
"This issue, touching as it does the country's future, is too important to be traded like this," Blair said.
He said people who were in favor of a "Brexit" were motivated by fear and scapegoating. He urged voters to consider the positive impact the EU has on global security.
READ MORE: 'Palestinians couldn't stand him': Tony Blair may quit as MidEast peace envoy
"Do we really think this is the time in which to put into play our very membership of the European Union, the largest commercial market and most developed political union in the world? And the one on our doorstep?" he said.
"So that, instead of playing a leading role in resolving these common challenges, we would decide to engage in the juddering impact of a negotiation which would weaken all these alliances and put us out of the leadership game?"
Blair warned of economic and social "chaos," which he said would reign should Britain leave the EU.
"Think of the chaos produced by the possibility, never mind the reality, of Britain quitting Europe. Jobs that are secure suddenly insecure; investment decisions postponed or canceled; a pall of unpredictability hanging over the British economy."
His speech focused on the social implications of a potential exit. He also said Britain would be viewed less favorably and the decision would have damning repercussions.
"A decision to exit Europe would say a lot about us, and none of it good: that an adventurous country has become a timid one; that one with global ambitions has opted to be a parochial bystander.
"That a country known for its openness to the world shuts the open door nearest to it; that a nation which has built its history on confidence towards others defines itself by resentment to others; that, with all the challenges of the world crowding in upon us, demanding strong and clear leadership, instead of saying 'here's where the world should go,' we say 'count us out.'"
Blair's support for Miliband has been widely questioned during the campaign, with the Conservative Party quick to note that he had once said the Labour leader was unfit to run the country.