Thousands of unqualified teachers working in UK schools - trade's union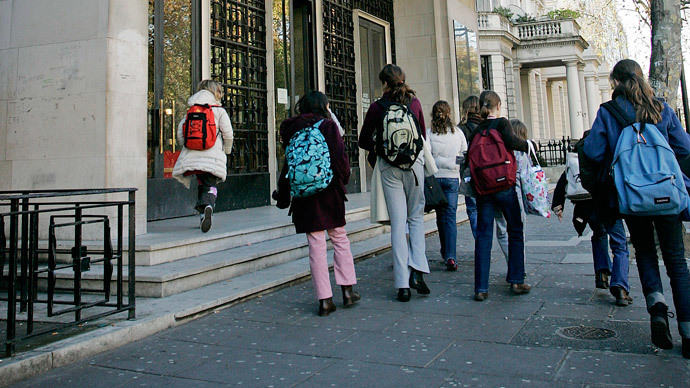 Britain's biggest teachers' union NASUWT has warned of thousands of unqualified teaching staff in schools across the country, saying it's harming children's education.
In a recent survey released for the NASUWT annual Conference in Cardiff, the teachers' union said that of 7,000 respondents questioned 53 percent indicated they were working alongside "unqualified staff." Some 65 percent said the situation was growing worse since schools are "unwilling or unable to pay for qualified teachers."
The coalition government abolished requirements for academies and free schools to hire qualified teachers in 2012.
In these so-called free schools and academies, both funded by the state, there is no law requiring staff to have qualified teacher status, although in schools maintained by a local authority any unqualified trainee must be working towards their teacher training qualification.
READ MORE: Early learning crisis: 20% of children unable to communicate properly at age 5 – study
Ministers argued that if schools in the state sector could emulate independent fee paying schools in hiring subject experts with world experience then standards would improve. But the General Secretary of NASUWT called it a "crude cost cutting measure" and "nothing to do with teaching and learning."
"Parents no longer have the certainty, when they send their child to school, that they will be taught by qualified teachers. These figures show that the scale of the problem is now widespread. This is jeopardizing the educational progress of children. It is abuse of unqualified staff, who are being exploited by schools, and it is denying teachers jobs," he said in a statement
In self-governing academies, funded by the state, the number of unqualified teachers rose from 2,200 in 2010 to 7,900 in 2013. Overall there were 17,100 teachers working without a teacher-training certificate in 2013, up from 14,800 in 2012.
A spokesman for the Tories defended unqualified teachers and said their number was only 3.7 percent of the total.
"There are some brilliant teachers who have not got qualified teacher status - nuns, great linguists, computer scientists, engineers and other specialists that inspire their pupils," he told the BBC.
But the Liberal Democrats, who were in government with the Tories when the changes came in, said they had opposed them and they would make sure there was "a qualified teacher in every classroom."
You can share this story on social media: