​Vote for peace: Next UK govt must halt MidEast, Ukraine chaos, says Stop the War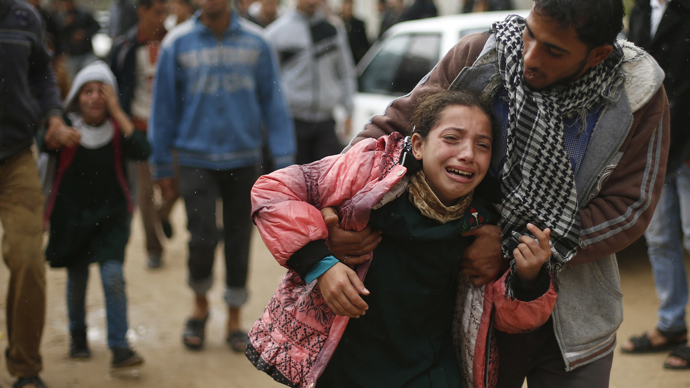 The next government must engineer a radical shift in Britain's foreign and defense policies if it seeks an alternative to chaos in the Middle East, unraveling social services at home and blood money derived from arms sales, an anti-war campaign said.
Stop the War Coalition, which has campaigned tirelessly for a radical shift in Britain's foreign policies since 2001, released a series of policy prescriptions on Thursday. It says these could help create peace and stability worldwide.
The campaign's proposals lay down a direct challenge to the next UK government in advance of May's general election.
In a bid to inspire change, Stop the War set out ten measures it says would help to bring an end to global chaos, violence and bloodshed, misguided investment in nuclear arms, and Britain's "disastrous" foreign policies.
READ MORE: BBC arms trade ties troubling, BAE boss must resign from Trust – campaigners
The group's first demand called upon the next government to outlaw arms sales to anti-democratic and repressive regimes.
Britain is the second biggest arms exporter in the world. Among states it sells weapons to are Israel, Libya, Pakistan and Saudi Arabia. Each of these nations appears on the UK Foreign Office's list of countries with "serious [and] wide-ranging human rights concerns."
However, profit continues to dictate policy at a terrible human cost. As the government and UK-based arms dealers reap colossal profit from weapons sales, Britain's arms trade persists in breeding misery, destruction, and bloodshed worldwide.
Stop the War's second demand urged the next government to end Britain's cycle of "foreign interventions" that have brought about destruction and turmoil in Afghanistan, Iraq, Libya and elsewhere.
The anti-war group also called for British troops and military officers to be brought home – away from "theatres of war in Syria, Iraq, Afghanistan, and Ukraine."
Remaining on the theme of misguided foreign policies, the group's third demand called upon Britain's next government to scrap plans to build a new UK naval base in Bahrain.
"The permanent Western military presence in the Middle East causes deep anger and resentment across the region," Stop the War said.
READ MORE: 'Dictators, human rights abusers to attend UK govt-backed arms fair,' says campaign group
Turning its gaze to the Israel-Palestine conflict, the campaign's fourth demand urged Britain's next government to terminate its military, political and diplomatic support of Israel.
The group suggested such a move should be orchestrated in protest against the Israel Defense Force's (IDF) repeated military assaults on Gaza, its illegal annexation of Palestinian land, its "building of settlements in the West Bank" and its opposition to Palestinian statehood.
The coalition of left-wingers also called upon Britain's next government to lobby the US Administration to close Guantanamo Bay, demand the immediate return of Londoner Shaker Aamer who has been detained at the facility for 13 years, and urge Western leaders to bring an end to torture, illegal detention and extraordinary rendition.
Stop the War also challenged the next government to initiate a program of nuclear disarmament in a bid to free up over £100 billion that could be invested in health and education.
Among its other policy prescriptions, are a call for Sir John Chilcot's report on the Iraq War to be released immediately, and a demand the government facilitate the prosecution of British war criminals, back international calls to criminalize drone warfare, abandon NATO and push for a "negotiated settlement to the crisis in Ukraine."
Some of the policy changes floated by Stop the War have surfaced in general election pledges offered by the Liberal Democrats, the Respect Party, the Green Party, the Scottish National Party (SNP) and others.
However, policies put forward by Britain's general election favorites – Labour and the Conservatives – are generally divorced from the anti-war campaign's demands.
READ MORE: 'Complicit in Gaza's misery': Pro-Palestine activists shut down UK arms factory
In terms of foreign and defense policies, Prime Minister David Cameron's Conservatives have pledged to build a new aircraft carrier, scrap Trident but maintain a constant nuclear deterrent off the coast of Britain, and maintain spending on foreign aid at 0.7 percent of GDP. The party's right-of-center election manifesto makes no mention of a single suggestion floated by Stop the War.
Labour's manifesto is similarly dissociated from the campaign's radical policy prescriptions. The party's foreign policy and defense proposals include a pledge to back the European Arrest Warrant, carry out a comprehensive "Strategic Security and Defence Review," criminalize discrimination against UK armed forces, and create a "minimum, credible, independent nuclear deterrent."
While Labour and the Conservatives envisage the general election as a two-horse race, current polling indicates the campaign is more nuanced.
A Guardian poll published earlier this week predicted the Conservatives will win 277 seats, Labour 269, the SNP 53, the Liberal Democrats 25, UKIP four and the Green Party one.
As the countdown to May 7 continues, the likelihood of a majority government remains low. Neither Labour nor the Conservatives are likely to be in a position to form a government with the seats of their respective MPs alone.
Analysts suggest a two-party government could also fall short of the 326 seats required for a majority, meaning Britain's next parliament could be the most fractured and fragmented in modern history.
You can share this story on social media: