​'West must offer Islamic State a truce' - ISIS captive John Cantlie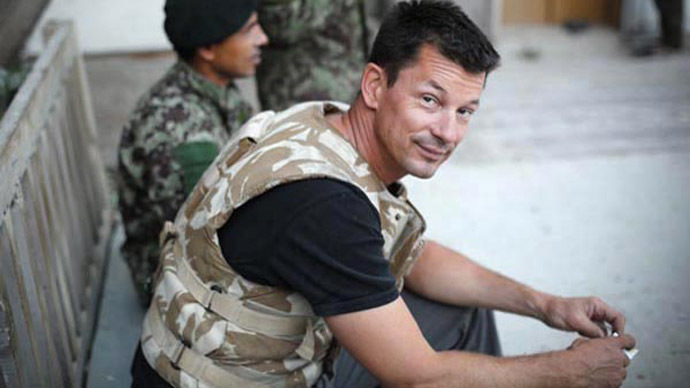 An article believed to be written by British photojournalist and Islamic State hostage John Cantlie, who has been detained by the terror group for more than two years, says the West will be forced to negotiate a truce.
The piece, entitled 'Paradigm Shift', appeared in the eighth issue of the Islamic State's English-language propaganda magazine Dabiq.
Cantlie, who was kidnapped in Syria alongside American journalist James Foley in 2012, has been used by Islamic State (IS, formerly ISIS/ISIL) for propaganda purposes for quite some time. Most likely under duress, the photojournalist has fronted IS propaganda videos and written in the terror group's magazine.
In his article, published Tuesday, Cantlie notes that Western governments appear to have reached the "grudging" conclusion that the IS is unlike any other terror group.
The photojournalist went on to claim that the Islamic State is a 'country' with all the characteristics of an operational state – a police force, schools, a fully functioning court system, and even its own currency.
READ MORE: ISIS hostage John Cantlie tells family: 'Let me go, get on with your lives'
"At some stage, you're going to have to face the Islamic State as a country, and even consider a truce," Cantlie said, addressing Western leaders.
"If there's no military-only solution to the Islamic State … at some point the only option will be an offer of a truce. And that's going to take some swallowing of pride," he said.
The photojournalist went on to argue the alternative would be bloody, chaotic and destructive. He suggested Western leaders would need to "launch airstrikes in half-a-dozen countries at once" and effectively "destroy half the region" if they hope to defeat the IS.
"But with the black flag of the Caliphate now seen on the skylines of Africa, Arabia, and Asia, a complete departure in how the West addresses this State is needed," he said.
Previously, Cantlie argued the West's strategy against IS militants is futile and called upon the US administration to reevaluate how it approaches the terror group. In the fifth issue of Dabiq, Cantlie likened Western leaders to mechanical robots "stuck in a loop."
"Military action doesn't work, what about negotiations?" he said.
READ MORE: ISIS release new video of John Cantlie 'Inside Aleppo'
Cantlie is widely thought to have been manipulated mercilessly by his captors as a convenient conduit for their fear-infused campaigns. His supposed embrace of jihadist ideology is questioned by many who believe he has been forced to act as a champion of Islamic State propaganda.
Political analysts argue the IS, which is still reeling from its overwhelming defeat in northern Iraq, tends to posture in a bid to distract from its weaknesses.
Michael Stephens, a research fellow at UK defense and security think tank the Royal United Services Institute (RUSI), said no Western state would back a ceasefire with the terror group.
"They may be trying to put out this story that they are undefeatable, [but] Islamic State is always posturing," he told the Times.
"They will do anything to distract the narrative from the fact that they are weak, that the cracks are beginning to show."