LSE evacuated due to fire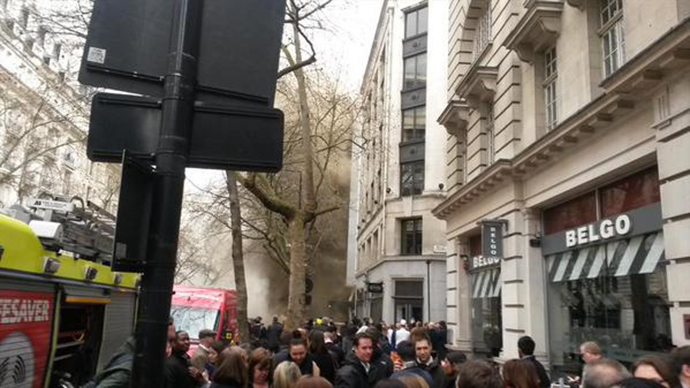 Buildings have been evacuated as a huge fire started under a busy central London street. Around 2,000 people have been evacuated from the Kingsway and smoke can be seen billowing through the street.
01 April 2015

16:23 GMT

One bystander who left the scene not long ago told RT:

"I just saw loads of smoke. You could smell the smoke as soon as you got outside. Every building in holborn, Chancery Lane, The Strand was being evacuated. I thought it was a bomb."

16:20 GMT

Transport for London (TFL) have released the following disruptions to local services:

- 10 bus routes are currently on diversion: 1, 59, 68, 91, 168, 171, 188, 243, 341 and 521

- Holborn Station (on the Central and Piccadilly lines) is closed. Tube tickets are being accepted on local buses within Zone 1

- Roads - Kingsway is closed between Holborn and Aldwych (Westminster Council Road). The Strand Underpass is also closed and Waterloo bridge is closed northbound. This is leading to serious delays along the Strand back to Trafalgar Square and also around Waterloo.

16:04 GMT

An RT video captures the scenes. A policeman can be seen struggling to breathe as smoke tears through the street.

16:01 GMT

What you need to know:

- The fire started at around 12.30

- More than 2,000 people have been evacuated

- The fire has been attributed to cables under the ground

- Holborn station has been closed

- The fire fighters have not been able to tackle the blaze effectively because they are waiting for utility companies to switch off the resources.

15:56 GMT

Crews are still working to tackle the blaze, reports say.

15:45 GMT

Ironically, a production of 'The Play That Goes Wrong' at the nearby Duchess Theatre has been cancelled this evening, due to the ongoing blaze.

15:30 GMT

There are reports of now nearly 70 fire fighters on the scene, and one BBC journalist has claimed the fire started with a ruptured pipe.

Gary squires from london fire brigade tells me flames are from ruptured pipe #holborn fire pic.twitter.com/Z0Nieh4OcE

— Sarah Campbell (@SarahCam3) April 1, 2015

15:04 GMT

One worker in the area told RT earlier in the afternoon:

"Our internet went out around 12.30, and an hour later the lights went out. We've been told that it's unlikely we'll be back on the grid before the end of the day.

Apparently the LAN cable on Kingsway has burnt through

There are fire engines on Kingsway, and smoke billowing out of the Civil Aviation Authority building."