​Cyber air warfare: Mass hack sees British Airways freeze thousands of accounts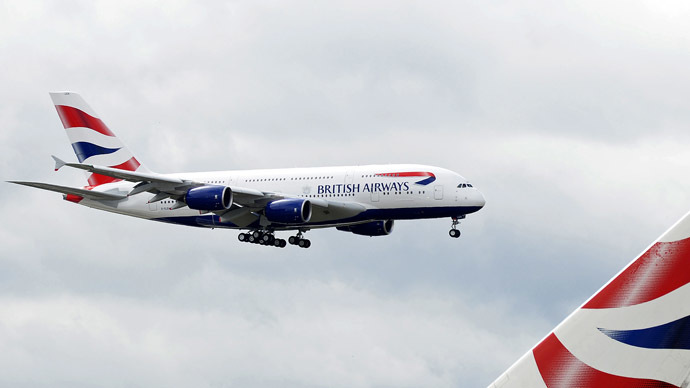 British Airways (BA) has locked down thousands of frequent flyer accounts after a mass cyber-attack from an unknown source.
BA announced on Sunday it had frozen the accounts after becoming aware its systems had been hacked on a mass scale.
The airline maintained that although the affected accounts number in the tens of thousands, no personal details of frequent flyers had been accessed or stolen. BA issued an apology to customers, saying the accounts would be freed up within a few days.
The source of the hack is unknown, but it is believed to have been carried out using a computer program that infiltrated BA's systems in search of vulnerabilities, before penetrating online security.
READ MORE: Huge rise in cybercrime, Brits fail to report attacks
In a statement, a BA spokesperson said: "British Airways has become aware of some unauthorized activity in relation to a small number of frequent-flyer executive club accounts. This appears to have been the result of a third party using information obtained elsewhere on the internet, via an automated process, to try to gain access to some accounts.
"We would like to reassure customers that at this stage we are not aware of any access to any subsequent information pages within accounts, including travel histories or payment-card details."
"We are sorry for the concern and inconvenience this matter has caused and would like to reassure customers that we are taking this incident seriously and have taken a number of steps to lock down accounts so they can no longer be accessed."
BA isn't the only airline to fall foul of cyber-crime recently.
READ MORE: Malaysia Airlines website 'Hacked by Cyber Caliphate'
In January, Malaysia Airlines suffered its own hacking attack by a group called "Lizard Squad – Official Cyber Caliphate."
It resulted in customers being rerouted from the company's site to a version of the page showing a lizard in a top hat and, intermittently, the statement "ISIS will prevail."
In October 2014, a poll indicated more than half of Britons have been victims of online cybercrimes, including hacking, ID theft and fraud. The Cabinet Office said many people are unaware who to contact in the event of an online attack.
The statistics, collected by research firm Vision Critical as part of "Get Safe Online Week" 2014, surveyed 2,075 people on the issue of internet crime, with around 51 percent saying they had felt "violated" after falling victim to attack.
The results also show that despite a huge rise in cybercrime in the UK, less than a third of those affected actually reported attacks to the authorities, largely because they did not know whom they are supposed to contact.