Europe's first 'dead' heart transplanted in UK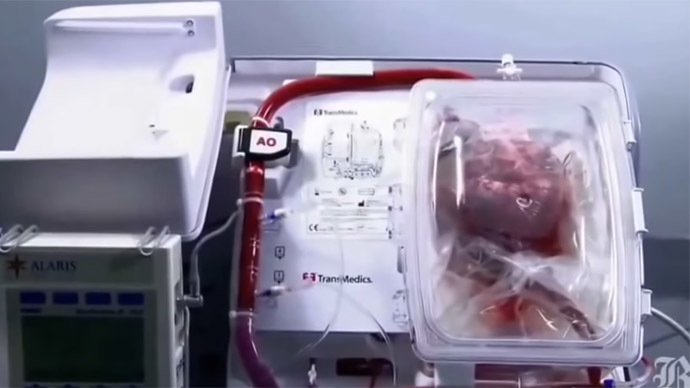 The first 'dead' heart transplant in Europe has been carried out in the UK. The procedure involves taking a heart that had not been beating for some time, and making it work inside the body of a living recipient.
This is markedly different from normal transplants, which involve the beating heart of a living person who has been declared brain-stem dead. In this reverse case, the heart came from a victim of circulatory death – their other organs gave out. The new approach involves restoring function to a dead heart, before placing it into an Organ Care System (OCS) to maintain quality before surgery.
READ MORE: First head transplant possible within two years, says Italian 'Frankensurgeon'
The recipient was 60-year-old Huseyin Ulucan, from London. The Papworth hospital in Cambridgeshire, where the still revolutionary procedure was performed, said he's making "remarkable progress" at home, after just four days in intensive care, following the transplant.
The hospital is also optimistic about the future: success in this field means 25 percent more hearts to work with in the future, and thus, more lives saved. This amounts to hundreds of people in the UK alone.
READ MORE: Heartless: US denies young Mexican visa for urgent transplant
"Using techniques developed to recover the abdominal organs in non-heart beating donors, we wanted to apply similar techniques to hearts from these donors," said Simon Messer, cardiothoracic transplant registrar.
"Until this point we were only able to transplant organs from DBD (donation after brain-stem death) donors. However, research conducted at Papworth allowed us to develop a new technique not used anywhere else in the world to ensure the best possible outcome for our patients using hearts from non-beating heart donors."
Ulucan, the recipient, had had considerable difficulty leading a normal life since 2008, when he'd had a heart attack.
"Before the surgery, I could barely walk and I got out of breath very easily, I really had no quality of life," he told the BBC this week.
"Now I'm feeling stronger every day, and I walked into the hospital this morning without any problem."
READ MORE: New penis recipient 'very excited' after S. Africa performs world's 1st successful transplant
The doctors are heralding a breakthrough, after so many resources were spent on finding a working solution to increasing the number of available hearts for transplant. The research had been on for a decade.
The first procedures of such kind in the world was carried out in Australia in September, where the three hearts had stopped beating for 20 minutes before the transplants.
You can share this story on social media: