New penis recipient 'very excited' after S. Africa performs world's 1st successful transplant
Published time: 13 Mar, 2015 18:40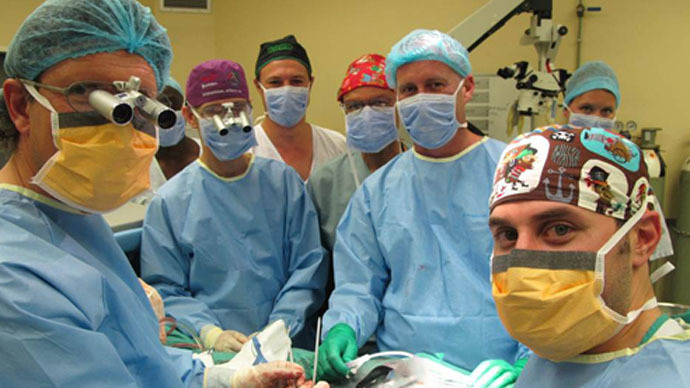 South African doctors have transplanted a "fully-functioning" penis to a victim of a botched circumcision after a nine-hour surgery. The only other such procedure in 2006 ended in failure.
The surgery was performed in December by a team from the University of Stellenbosch at Cape Town's Tyberberg Hospital, on a 21-year-old man whose name has not been revealed for "ethical reasons."
"It's a massive breakthrough. We've proved that it can be done – we can give someone an organ that is just as good as the one that he had. It was a privilege to be part of this first successful penis transplant in the world," said Professor Frank Graewe, who assisted on the operation, at a press conference, staged once doctors were sure that the transplant had been accepted physically psychologically.
Post by Stellenbosch University, Faculty of Medicine and Health Sciences.
Professor Andre Van der Merwe, who led the surgery, said the patient, who is "very excited," is capable of "experiencing pleasure," and has already resumed his sex life.
"Our goal was that he would be fully functional at two years and we are very surprised by his rapid recovery," Van der Merwe told the media in Cape Town.
The team said that the patient was one of 250 young South Africans who are annually forced to undergo penile amputation due to complications following traditional circumcision ceremonies, mostly performed by Xhosa tribal populations, away from urban areas. The procedures are often dangerous, due to crude methods and unsanitary conditions.
"This is a very serious situation. For a young man of 18 or 19 years the loss of his penis can be deeply traumatic. He doesn't necessarily have the psychological capability to process this. There are even reports of suicide among these young men," Van der Merwe said.
"There is a greater need in South Africa for this type of procedure than elsewhere in the world, as many young men lose their penises every year due to complications from traditional circumcision."
READ MORE: First head transplant possible within two years, says Italian 'Frankensurgeon'
The Stellenbosch University team selected a group of ten potential recipients for the transplant, all victims of the same ritual, as far back as 2010. But in subsequent years, they struggled to convince potential donors to part with such a symbolically important organ, which would also have to be removed before a public funeral.
In the end, the physicians found a donor, and created a penis-like shape out of his abdominal skin, prior to his burial.
The Stellenbosch team say they will now hope to make the procedure available, not just for those disfigured by circumcision, but also victims of penile cancer, and erectile dysfunction caused by severe physical conditions.
While penile implants – which insert artificial material to lengthen or strengthen a functioning penis – are commonly performed, it remains one of the few remaining organs that has defied transplantation. Scientists have traditionally struggled to effectively re-attach the nerve endings, and to restore sexual function.
Psychological problems also abound.
The poorly-documented 2006 transplant, performed in Guangzhou, China, had to be reversed after the 44 year-old patient suffered "severe psychological problems" after the surgery, with neither the man nor his wife accepting the new appendage. Doctors said they had to "regretfully" remove the penis just two weeks later.
Such problems are commonplace when identity-forming external organs are transplanted, with patients revolted and disturbed by seeing parts of dead people's bodies sewn onto their own.
But scientists say they hope to bypass the difficulties of acceptance, and finding donors in the coming years. Scientists at the Wake Forest Institute for Regenerative Medicine in North Carolina have been working since 1992 to develop lab-grown penises, made out of the recipients' own genetic material. Human testing could begin in 2019, pending FDA approval.