Macho, bullying British police culture deterring whistleblowers – report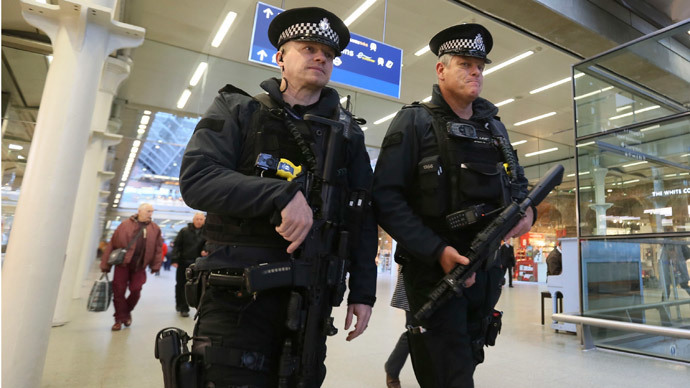 A report from the College of Policing has warned of a "bullying, arrogant, macho" culture within British police forces, where whistleblowing is frowned upon and cases of racism and sexism are rife.
The evidence-based review, carried out by senior academics in criminology and law, states that it is "career limiting" to challenge the status quo within police forces.
The report says that although whistleblowing has been enshrined in the law, there is no real culture of it within the police force, the Guardian reports.
Officers who were interviewed said that whistleblowing against chief officers is extremely rare – and in the cases where it has been done, the whistleblowers had often resigned because of the "extreme unpleasantness" of their work environment after they had made allegations.
The report was commissioned in 2013, with senior academics interviewing officers and investigators who had probed 40 cases of police misconduct.
Last year, Home Secretary Theresa May announced plans to increase protection for police whistleblowers.
"Police officers and staff need to know that they can come forward in complete confidence to report wrongdoing by their colleagues," she insisted.
As well as singling out the problem of whistleblowing, the report found that UK police forces have a "bullying boys' club culture" which recruits a particular kind of candidates.
READ MORE: Crackdown on police surveillance of journalists pledged following outcry
The study also found corruption at the higher end of police forces, with senior officers using expenses to pay for private school fees and extramarital affairs.
"We were told that some chief officers tended to see themselves as being more akin to 'captains of industry' than public servants – with all the entitlements and privileges that came with the CEO role. Several interviewees described a 'culture of entitlement' at chief officer level," the report reads.
One of the authors said the report gives valuable insight into how police officers fall foul of professional conduct.
"It identifies both organisation pressures and individual vulnerabilities that can result in misconduct among people doing very demanding jobs. Understanding these factors is central in mitigating the risks," said Professor Mike Hough, as quoted by the Guardian.
READ MORE: UK police slammed for using anti-terror laws to uncover secret sources
But the chair of the Police Federation of England and Wales, Steve White, defended police conduct, while hinting that government cuts are not helping police officers do their jobs.
"The police code of ethics exists to clearly define the standards of behaviour and good practice which is expected of officers throughout the country and which they must adhere to," he said.
"Police officers are facing unprecedented demand and the cracks are beginning to show. This report must be taken seriously to ensure that we have the senior officers needed to deal with the ever thinning blue line," he added.