​Russia slams Hammond for 'unacceptable language' after he names it #1 foreign policy challenge
Published time: 26 Mar, 2015 21:34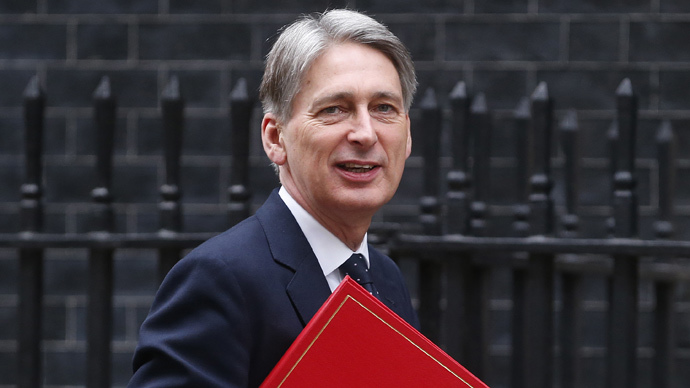 The Russian embassy in the UK has sharply criticized British Foreign Secretary Philip Hammond for his harsh words about Russia's involvement in the Crimean referendum and the crisis in eastern Ukraine during a speech to the diplomatic corps.
"Throwing words around, which reflect an utterly biased view of the Ukrainian crisis, with no place left for interests of real people on the ground and their right to decide for themselves, the Foreign Secretary declared Russia as a menace and a British Foreign Policy number one challenge," the embassy wrote in statement released on Thursday.
ANOTHER OUTBURST AGAINST RUSSIA IN LONDON http://t.co/5sMTOgm7c1

— Russian Embassy, UK (@RussianEmbassy) March 26, 2015
At a reception Wednesday night, Hammond identified Russia as the biggest foreign policy challenge facing the UK, followed by the Islamic State. The Russian embassy criticized the speech as "undiplomatic and unacceptable."
"Russia's illegal annexation of Crimea and its aggression in eastern Ukraine are both attacks on the international rules-based system," the foreign secretary said. "In the place of partnership, Russia has chosen the role of strategic competitor."
In response, the Russian embassy pointed out that Russia has traditionally been a convenient foe for the United Kingdom. "It seems that standing tall means for Britain having a tall enemy, which Russia fits perfectly at all times, but also attachment to the prejudices of the imperial past, including the idea of containment of Russia."
Earlier this week, Hammond also spoke out about Russia's role in Ukraine. On Sunday, just a day after the anniversary of the Crimean referendum, the minister said "the annexation of Crimea was illegal and illegitimate in March 2014, and remains illegal and illegitimate in March 2015," in a statement posted on the British Foreign and Commonwealth Office's website.
Hammond went on to call the referendum a "sham" as well as a "fig leaf" for Russian President Vladimir Putin's "land grab."
Aleskei Pushkov, chairman of the Russian State Duma's International Affairs Committee, responded to the criticism on Twitter by saying that "Crimea has a lot more right to the status of Russian territory than the Falkland Islands do to having the status of Britain's territory."