​Police drones filming protesters is a privacy concern – campaigner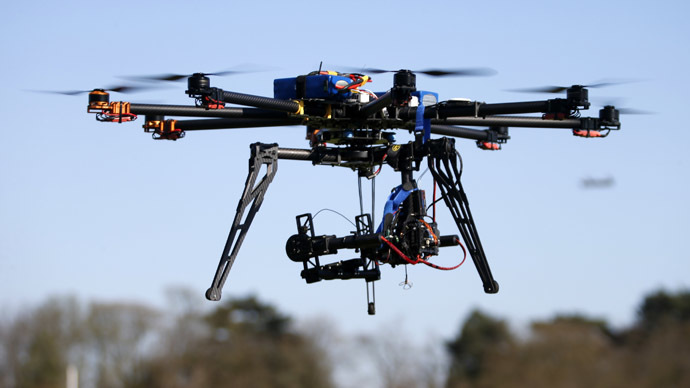 A decision by the British Home Office to trial the use of drones in monitoring protests and surveying road accidents has been criticized by privacy campaigners who cite lack of oversight as a major concern.
Police forces in Sussex and Surrey have been granted government funding to conduct a pilot project testing the use of unmanned aerial vehicles (UAV).
Drones are being considered by police across the UK as a cheaper alternative to helicopters.
Privacy activists expressed concern the technology could be misused by authorities to target innocent individuals.
Several police forces across the UK have already trialed drones, with Northern Ireland using them for security purposes during the G8 Summit in County Fermanagh in 2013.
The £250,000 grant from the Police Innovation Fund will enable Sussex and Surrey to buy five more drones to be used for accident scenes, searches for missing people and monitoring protests.
READ MORE: Police kept 'very extensive' secret files on Labour politicians – whistleblower
A spokesman for Sussex police told The Times: "We are talking of using UAVs as an eye in the sky which can give us a different perspective on an incident, such as a road accident, or can get somewhere quicker than an officer on foot, or go into an area where officers cannot be deployed, like a chemical leak incident."
"Of course there are cost savings but they can only film, they cannot intervene, they cannot make arrests," he added.
If the trial is successful, the Home Office intends to expand the use of drones by police forces across the country.
Privacy campaigners have expressed concerns over the implications of UAV surveillance.
Sam Smith, a privacy advocate formerly of Privacy International, told RT: "As with many things, the Home Office wants to use new technology for purposes and keep quite secret what they use it for. The Olympics had approval for drone use, but didn't use them because there was a strong case against doing so."
"This trial will probably end as well as the last one, where they lost control and crashed it into the Mersey, which was better than crashing it into Liverpool," he said.
READ MORE: Landed in court: Briton charged for drone flights over Parliament, football stadiums
Asked if the use of drones by police raised fresh privacy fears, Smith replied: "Not new, just bigger – it makes even more stark the privacy risks to innocent parties that come from the many existing police bulk techniques around the world, which all lack effective oversight."
For police forces however, drones are an affordable alternative to the expense of maintaining helicopters in a time of shrinking budgets.
Police and Crime Commissioner Tim Passmore has suggested forces in Suffolk use drones in a bid to cut costs.
Speaking to the BBC, he said Sussex police's £800,000 annual bill for the use of helicopters was too high.
"I made it quite clear that we will not be paying that money," Passmore said.
You can share this story on social media: