British girl among medical students 'volunteering as medics in Syria'
Published time: 24 Mar, 2015 16:52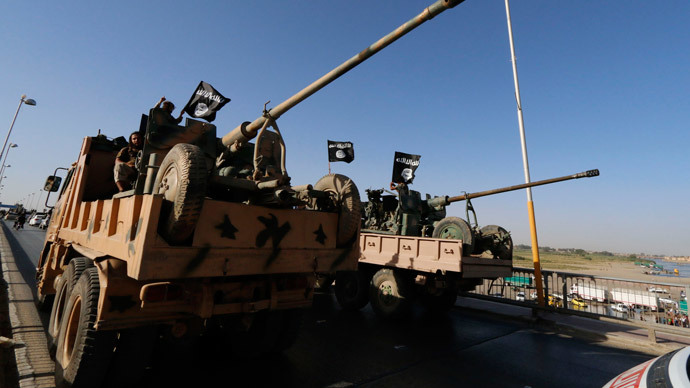 A 19-year-old British girl is among nine young medical students feared to have traveled to Syria to volunteer as medics in Islamic State-controlled territory.
Lena Mamoun Abdelgadir is among up to nine British students in their late teens or early 20s who have reportedly crossed the border from Turkey last week to treat people in areas held by Islamic State (also known as ISIS, or ISIL).
In a statement, the medical students' families said their children were high achievers and had "excellent" moral capabilities.
"Our sons and daughters have always been participating in humanitarian and good cause social work," the statement read.
"They have come to Turkey willingly to offer voluntary medical help to those refugees who are in need of medical care on Turkey's borders."
All the missing students have Sudanese roots and are current or former pupils at Khartoum's private University of Medical Sciences and Technology.
The other missing medics were identified as Ismail Hamdounn; Hisham Muhammed Fadlallah; Nada Sami Kader; Rowan Kamal Zine El Abidine; Tasneem Suleyman Huseyin; Tamer Ahmed Ebu Sebah; Mohamed Osama Badri Mohammed – also known as Usage Muhammed Bedir – and Sami Ahmed Kadir.
READ MORE: 2 siblings among group of British medics in ISIS-held Syria
Abdelgadir's father, who is a surgeon at a Norfolk Hospital, flew to Turkey to find his daughter just hours after she told her sister she was on her way to treat Syrian civilians.
The students' families have told Turkish officials they believe their children have been "brainwashed" into helping the jihadists.
It is still not yet clear whether Abdelgadir traveled to Syria for humanitarian reasons to help victims of the civil war or whether she aims to support ISIS by providing medical assistance in its hospitals.
Abdelgadir sent a message, including a smiley emoticon, to her sister in the UK on March 12, saying: "Don't worry, we've reached Turkey and are on our way to volunteer helping wounded Syrian people," the Telegraph reports.
Her Twitter account, however, indicates potential sympathy with the Islamist fighters.
In January, @Lenaalinglingg retweeted: "The pictures that the 2 journalists produced on Islam and Prophet Muhammed [were] more horrific than their killing," in reference to the Charlie Hebdo attacks in Paris this year.
She also retweeted: "Fighting is not violence. Violence is tyranny, oppression, suppression & injustice. Only thru FIGHTING can we get OUT of VIOLENCE. #peace."
READ MORE: 3 British teenagers aiming to join ISIS in Syria detained in Turkey, sent back
Abdelgadir, from King's Lynn in Norfolk, has been a "bright pupil" who spent nine years at the Wisbech Grammar School in Cambridgeshire, which costs nearly £12,000 a year. After she finished her GCSEs she left to start medical training in Khartoum, Sudan.
Chris Staley, headmaster of Wisbech Grammar School, said: "She was an incredibly bright and focused young lady who was clearly destined for great things on the medical or scientific side."
The Foreign Office said it was giving consular assistance to the families of seven Britons.
Henry Bellingham MP told Lynn News: "I am sure the whole community is in shock about what has happened. I know this has come as a dreadful blow to the rest of the family as it is obvious they only wanted what the very best for their daughter when they sent her to the Khartoum Medical School.
"The last thing they had expected was for her to be sent to Syria to support Islamic State by working as a medical volunteer.
"Even though they will be told that the work is purely medical, they are nonetheless being persuaded to go into an incredibly dangerous war zone."