Austerity hits poor, migrant children hardest – parliamentary report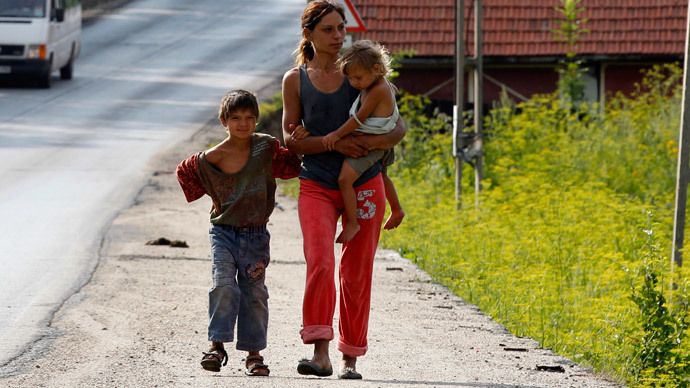 Children from poor families have been disproportionately harmed by Britain's austerity policies, a parliamentary report has found. Youngsters' reduced access to legal aid will serve to blacken the government's human rights legacy, it added.
In a report published on Monday, Britain's Joint Committee on Human Rights (JCHR), examined the government's compliance with the UN Convention on the Rights of the Child.
While the JCHR acknowledged the government has made a degree of progress in recognizing the rights of the child in Britain, it warned much remains to be done.
The cross-party committee of MPs concluded the government should have monitored the impact of its austerity measures more stringently, and made an effort to work harder to soften their effect.
The Committee said it had uncovered evidence that certain parts of UK legislation "run directly counter to the principle of protecting the most disadvantaged."
READ MORE: Austerity will devastate Britain's most deprived councils, experts suggest
To illustrate the point, it suggested the government's decision to restrict increases in benefits to 1 percent, while allowing other state welfare payments such as pensions to rise in accordance with inflation, was problematic.
The committee's report found that migrant children and youngsters from low-income backgrounds were among the hardest hit by the coalition's cuts to benefits and social services.
"All the evidence with which we have been presented during this short inquiry points to the fact that the impact on children of this current period of austerity has been greater than for many other groups," it said.
"Certain categories of children may have been protected from the worst impacts of austerity, but other groups – in particular migrant children, whether unaccompanied or not, and children in low-income families – have been hit by cuts in benefits and in the provision of services."
The Committee conceded that austerity measures inevitably carry certain impacts. However, it expressed disappointment that children, particularly "disadvantaged children," had suffered disproportionately under the coalition's austerity policies.
The JCHR was particularly critical of the government's penny-pinching reforms to legal aid, warning they had blackened the government's "human rights record."
The committee said the government's Legal Aid, Sentencing and Punishment of Offenders Act Act (Laspo) had adversely impacted upon children's capacity to access legal aid in Britain.
"The number of children granted legal aid for education has fallen by 84 percent, and the number granted legal aid where their parents have divorced or separated has fallen by 69 percent," the report said.
READ MORE: Blind to austerity: Whitehall oblivious to corrosive impact of cuts, says watchdog
The committee argued further the government's legal aid reforms have bred a 22 percent increase in the number of private family law cases involving children where neither party had been able to afford legal representation.
Ministers had addressed the concerns in a number of "discrete areas." But it insisted evidence from former-Children's Commissioner of England Maggie Atkinson and a number of UK-based charities indicates the next government will have to review these reforms and "undo some of the harm they have caused to children."
MPs and peers were also critical of the use of force on "children in custody" in the state's secure college program for young offenders, warning it breaches the UN Convention on Human Rights.
Following the release of the JCHR's report, MPs demanded the government consider offering the Children's Commissioner of England increased powers to examine individual cases in line with those held by her counterparts in Northern Ireland, Wales and Scotland.
Hywel Francis, Chairman of the JHRC, said the government's commitment in 2010 to pay "due regard" to the UN Convention on the Rights of the Child was a welcomed step. But he stressed more needs to be done to protect children's rights.
"In many areas things have improved for children over this parliament as a result, although the momentum set in train in 2010 has slowed considerably in some areas.
"We hope the new government will renew that commitment and that our successor committee will monitor how children's rights are fully taken into account in new law and policy."
The committee called upon the next government to review Britain's legal definition of the age of a child in a bid to deal with legal quagmires stemming from a lack of consistency. It also recommended that the role of children's minister should be a cabinet-level position.
READ MORE: Human rights at 'precarious crossroads' in Britain – watchdog
A report recently published by the London School of Economics (LSE), the University of Manchester and the University of York, 'Social Policy in a Cold Climate,' found that the government's benefits cuts had not been used to reduce the nation's deficit. Rather, they had been used to facilitate tax cuts for the wealthy, the study said.
Speaking to RT on Tuesday, a spokesman for Child Poverty Action Group (CPAG) said the "tide has turned" after years of falling levels of child poverty in Britain.
"As the burden of spending cuts continues to fall on low income families, Britons will see a sharp rise in child poverty this coming decade," he said.
"According to the Institute for Fiscal Studies (IFS), Britain will be home to 3 million children living in poverty by 2020," he warned, adding this figure marks an increase of 700,000 since 2010.
The CPAG spokesman said legal aid is a vital tool for upholding children's rights in Britain that should be protected at all costs.
"At a time when spending cuts are hitting families and the benefits system is in a major overhaul, it's crucial that those who need it can get legal advice," he said.
"Without such services, it becomes much more difficult for people to enforce their legal rights."