​'Get under the skin': UK's first public human dissection in a century planned for Edinburgh
Published time: 19 Mar, 2015 17:09
Edited time: 20 Mar, 2015 14:16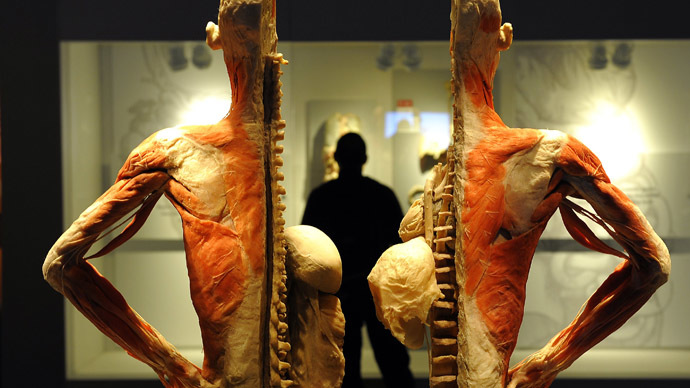 Scientists in Edinburgh will perform the first public anatomy lectures using human bodies since the 1800s, when serial killers Burke and Hare profited from selling corpses to a medical school.
Members of the public with a reason to study anatomy will be eligible for the day-long workshops, which will cost £100 each.
Edinburgh University will offer six classes beginning next month with a dissection of the "upper limb."
Tom Gillingwater, professor of neuroanatomy, said the university is taking advantage of changes in the law to enable the public to "get under the skin of the real flesh and bones of anatomy."
He said in a statement: "If you go back to the early 1800s, the public were more clued up on anatomy than they are now. Back then, dissection was done publicly. You could buy tickets."
"For some it was entertainment, but for others it was a way of feeding curiosity and finding out what was going on."
READ MORE: Outrage as giraffe killed, dissected, fed to lions in front of kids at Copenhagen Zoo
Gillingwater added: "We want people who have a reason to learn more anatomy to do so legally, safely and with the right level of instruction, in an expert environment with access to actual human material."
The workshops, which begin in April, will be the first public human anatomy lectures since a scandal featuring notorious murderers Burke and Hare caused the outlawing of public dissections.
William Burke and William Hare were two Irish immigrants who killed 16 people in the Scottish capital before they were caught in 1828.
The pair sold their victims' corpses to Dr Robert Knox, a surgeon who was a popular lecturer in anatomy.
Following the scandal, legislation was passed to expand the legal supply of medical cadavers and outlaw the public dissection of human bodies.
READ MORE: Skeleton in the closet: Romanian headmaster still in class after death (VIDEO)
Professor Gillingwater said aspiring medical students, massage therapists and artists have already signed up for the lectures.
He said: "The cadaveric material allows you to see bones with ligaments attached or the muscles all around it, the nerves supply, the blood vessels, to see the whole functioning upper limb."
"People will be looking at and handling arms. They won't be expected to physically dissect. Anatomy education is about so much more than learning facts. It is, for example, about dealing with death."
Gillingwater went on to say applicants will be carefully vetted.
"If you are having to handle a body, this is someone who was a living, breathing person, perhaps a relative of someone who lived locally. You need to show respect and the level of emotional awareness and maturity to handle that," he said.