Trimming the fat? Cutting welfare for obese people 'unethical,' Lancet claims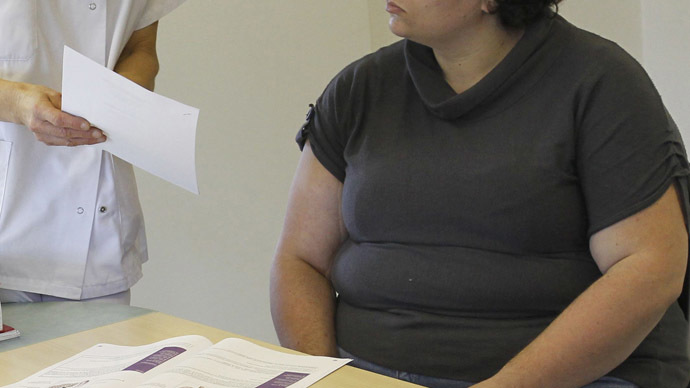 Prime Minister David Cameron's plans to cut benefits for those suffering from obesity if they refuse be treated has been branded "far from ethical" by a medical research group, which says the measures would cost more than they would save.
The PM announced in February that if the Conservatives remain in power after May's general election, they will ensure tens of thousands of people who are claiming benefits because they have substance or weight problems are "incentivized" to go back to work.
Cameron said it was crucial that people take the treatment available to them so they can start leading a "fulfilling life."
But the Tory plan to save £12 billion in benefits during the next Parliament has received staunch criticism from the Lancet group, who say the consequences of such a plan are ill thought through and could result in even higher healthcare costs.
Announcing the benefit clampdown, the PM said: "The next Conservative government is determined to make sure that the hardest to help get the support they need to get them back to a fulfilling life.
"Too many people are stuck on sickness benefits because of issues that could be addressed but instead are not. Some have drug or alcohol problems, but refuse treatment. In other cases people have problems with their weight that could be addressed, but instead a life on benefits rather than work becomes the choice," he added.
READ MORE: Drug, alcohol addicts and… obese to have benefits slashed, Cameron pledges
The Lancet editorial, however, says "although many people who claim sickness benefits for obesity might welcome the opportunity to take part in an intervention that helps them to lose weight, any mandated program should have a strong evidence base for success."
It adds that many lifestyle alterations have little evidential success and are often hampered by genetic predispositions, and asks whether it is right that society should enforce weight-loss programs on individuals.
The most effective form of treatment is bariatric surgery, the editorial says, but "requiring people to undergo a major surgical procedure as a condition of receiving benefits seems far from ethical."
Furthermore, figures suggest the attack on benefits would yield only a small saving. A Freedom of Information request shows only 1,780 people are claiming benefits because of obesity-related complications.
The Lancet group says money would have to be ploughed into lifestyle programs designed to tackle weight loss. If such services are ineffective "then money will have been spent on the interventions without reduction in the benefits bill."
They conclude that enforcing lifestyle changes on the obese in exchange for sickness benefits is "financially and ethically questionable."