Mixed reviews! UKIP Farage's new book mercilessly trolled on Amazon
Published time: 18 Mar, 2015 18:13
Edited time: 18 Mar, 2015 19:50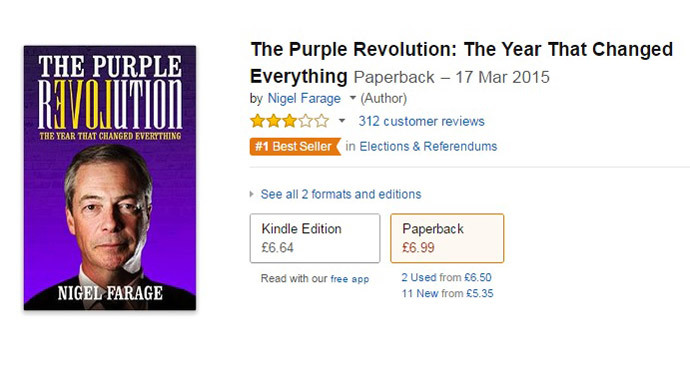 A war of words has broken out between UK Independence Party (UKIP) supporters and its detractors in the reviews section of Amazon.co.uk over Nigel Farage's new autobiography, Purple Revolution.
Published on Tuesday, the book has received a torrent of satirical reviews, with one customer saying they "will be sticking with Andrex [toilet paper] in the future."
UKIP supports have hit back, with one claiming there's an "internet conspiracy."
Another Farage supporter attacked the "cheap ironic drivel" of "leftwits."
RT collected an assortment of the funniest and most profound reviews.
In the satirical camp, Amazon user Luke thought it would make a great children's book.
While a reviewer who goes by the name of ISC found it deeply inspiring.
Tiernan Douieb cast doubt on the patriotism of the publication.
This reviewer was evidently expecting something more dramatic.
In a final ironic review, Amazon user @johnfulthorpe pokes fun at the average reading age of Farage fans.
UKIP supporter Andrew Ampers Taylor attacked Farage's detractors for deliberating leaving bad reviews.
While Robert Lavin recommended the book for people who "think for themselves."
Victoria Harrison didn't see the joke for the drivel.
Finally, a reviewer who goes by the name of Igor suggested a book which receives this much mockery must have a "lot of truth" in it.