​Deaths, assaults, self-harm: UK prison crisis caused by staff cuts, MPs warn
Published time: 18 Mar, 2015 16:28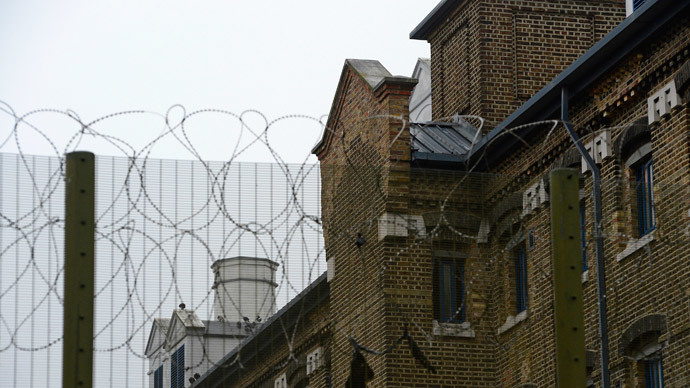 Government austerity policies have contributed to a "deterioration" of safety standards in British prisons and a rise in suicides, an influential committee of MPs has said.
The Justice Committee found there has been a steady increase in the number of assaults against staff and other prisoners, as well as prisoner deaths since 2011.
It found the government had failed to plan adequately for risks arising from staff shortages and was responding slowly to problems caused as a result of cuts.
Penal reform groups described the report as a "powerful indictment of government complacency."
Prisons Minister Andrew Selous defended the policy changes and praised prison staff for doing an "excellent job."
The committee's report of its year-long inquiry into the impact of prison reforms found they made a "significant contribution to the deterioration in safety."
Prison reforms include "efficiency savings," by which they mean staff cutbacks, and "changes in operational policy, including to the Incentives and Earned Privileges scheme."
READ MORE: Consensual sex widespread in UK prisons, study finds

Staff shortages mean prisoners have much less time to spend on "purposeful activity."
The report found up to 40 percent of inmates at HMP Isis, situated near Belmarsh prison, were locked up in their house blocks every working day.
This comes despite a government pledge to get prisoners working up to 40 hours a week in a daily routine, "linking work activity with qualifications and employment opportunities."
The working prisons initiative is supported by the Howard League for Penal Reform and was described as a "worthy aim" by MPs in the report.
Fewer prison officers also had an impact on the use of prison infrastructure.
MPs found a £1.3-million laundry facility in HMP Wormwood Scrubs lay unused due to staff shortages.
The committee expressed "grave concern" at the increase in violence in prisons over the past two years.
Suicides rose 38 percent between 2012 and 2014, while there has been a 9-percent increase in self-harm and a 7-percent rise in assaults.
The committee also found there has been a doubling of incidents of "concerted indiscipline," which is when two or more prisoners act together to defy an instruction or prison requirement.
Justice Committee: Ministry of Justice has spent £63.5 million of public money over 13 months moving prison staff around to plug shortages.

— Alex Cavendish (@PrisonUK) March 18, 2015
The report said: "Complaints to the Prisons and Probation Ombudsman and other sources have risen. There are fewer opportunities for rehabilitation, including diminished access to education, training, library, religious leaders, and offending behavior courses."
MPs also expressed concern over "unmanageable growth" in the prison population, which currently stands at more than 85,000.
Juliet Lyon, Director of the Prison Reform Trust, said the report was a "powerful indictment" of the government's disregard for "rapidly deteriorating standards and safety in our prisons over the last two years."
She said in a statement: "Soaring levels of violence, a 100-percent increase in acts of concerted indiscipline, shocking rates of suicide and self-harm, chronic and growing overcrowding, a slump in purposeful activity, dangerously low staffing levels and plummeting staff morale reveal a prison service under unprecedented strain.
READ MORE: Overcrowded UK prisons are 'feeding crime' – study

"There is a threshold beneath which it is no longer possible to maintain a safe and decent environment. This report reveals that we are at that threshold."
Francis Cook, Chief Executive of the Howard League for Penal Reform, said: "The report vindicates the long-held view of the Howard League that the safety and effectiveness of prisons is being compromised by the cut in staffing numbers and a failure to address the size of the prison population.
"We absolutely need an informed public debate about the role of prison in our society and a proper understanding of the costs – both social and financial – that are associated with rising prison numbers," she added.
Prisons Minister Andrew Selous defended government policies, arguing they have saved "millions of pounds."
Speaking to the Guardian, he said: "Our modernization program has created an estate fit for purpose, and saved the taxpayer millions of pounds."
"Staffing levels were agreed with both prison governors and the unions at the outset and they have done an excellent job during a period when the prison population has unpredictably risen."
"This government will always have enough space for those sent to us by the courts," he added.