​'Protected from himself': Travel ban for teen whose brothers died fighting in Syria
Published time: 18 Mar, 2015 12:28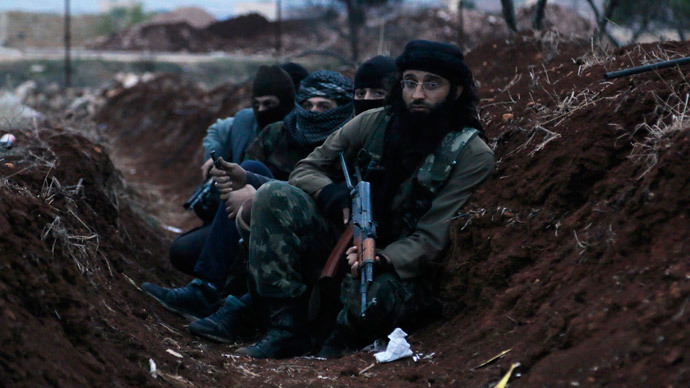 A 16-year-old boy whose two elder brothers were killed fighting in Syria's civil war has been banned from traveling abroad. The move is to prevent him from following in his siblings' footsteps.
A judge made the ruling at the Family Division of the High Court in London after social services raised concerns that he might travel to Syria, just as his brothers did.
Justice Hayden made the teenager, who has not been named, a ward of court, which bars him from leaving England and Wales.
The judge said he wanted to "keep this lad alive."
"[The teenager] is a vulnerable young person," the judge said.
READ MORE: 3 British teenagers aiming to join ISIS in Syria detained in Turkey, sent back
"He has grown up in modern Britain in an extraordinary family – a family where the male members are patently committed to waging jihad in war-torn Syria.
"The local authority's anxiety here is that [the teen] may wish to follow the path which his brothers have walked.
"The balance falls clearly in protecting this young man, ultimately from himself."
Two of the youth's brothers died in Syria while fighting for the Al-Nusra Front, while a third brother was wounded, but is still believed to be fighting in Syria. One of the boy's friends was been killed in the fighting.
The teenager has joint British and Libyan citizenship, and comes from the Brighton area.
READ MORE: 5 Brits join ISIS each month, 1 dies every 3 weeks
Brighton and Hove local authority social services department had heard that family members were preparing for the teenager to travel to Dubai during the Easter holiday.
Lawyers told the judge the youth lived with his mother. The judge said the boy's mother was "exhausted by grief" and there were concerns she was unable to place "proper boundaries" around him.
"Even when children spend time on the internet in their bedrooms, it is difficult for most people to imagine children growing up in their own households becoming sufficiently radicalized to seek martyrdom without the parents having the faintest sense of it," Hayden said.
"I can understand a child tricking his parents by saying he is going to visit a friend when he is actually going for a night out. But tricking his parents into getting him a passport to go to Libya?"
It is understood to be the first time a family court judge has been asked to take such action to prevent a minor from traveling to fight in Syria.