​'They'll be dead in a week': Veterans question experience of ex-army anti-ISIS squad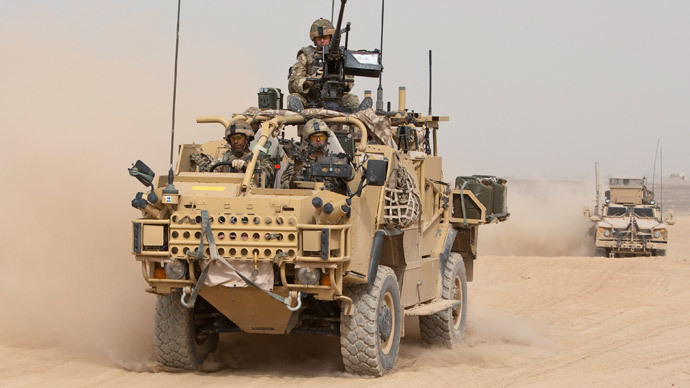 Eight men claiming to be British Army veterans say they are preparing to fight Islamic State militants at a secret European training location, but other veterans have aired concerns about the group's battle skills.
A spokesman told the Evening Standard the unit had named itself the International Volunteer Force, or IVFOR.
"I and several colleagues, all ex-armed forces, have formed a small unit which is open for any English speaking individuals from any nation. We will be in Syria within weeks and are training every day. We intend to submit our skills to the people of Kurdistan.
"Although we wear a similar uniform to UK armed forces, we have no association to them other than the fact that we are ex-armed forces. Our cap badge is lightning crossed by a sword, Cita et Certa – Swift and Sure. We will deploy a strong force to aid the Kurdish militias. We intend to work as one, rather than split or tag onto other militia units."
"We intend to be a serious asset."
However, one army veteran questioned the group's claims, having seen a tweeted image of members posing with their rifles.
Meet the '#ISIS Hunting Club', 8 Ex-UK Soldiers part of IVFOR (International Volunteer Force) off to fight in Syria. pic.twitter.com/J9k0QHrDa1

— Jammy Dodger (@mrjammyjamjar) March 16, 2015
David Buck, 34, served in the army between 1997 and 2006, and is a veteran of operational tours in Kosovo, Macedonia and Iraq.
Buck pointed out that the soldier in the bottom left of the group photo looked remarkably young and that he was holding his rifle the wrong way around, meaning shell cases expelled by the weapon would likely hit him in the face if he fired the weapon.
"They are probably airsoft veterans, a rag tag bunch who will get a very nasty shock when they go to Syria, the lad bottom left doesn't look like he has much 'experience' by the way he's holding his rifle," Buck told RT.
"He looks about 12, even with his face blacked out SAS style, you can tell he's only a young lad."
Former Royal Marine Commando Ben Wright, who served three tours in Afghanistan, immediately recognized the weapon handling error. He told RT: "They are going to be dead in a week."
"Who do they think they are? The A Team?"
READ MORE: 'You will be avenged, brother': British Marine killed in Syria fighting ISIS
Hundreds of foreigners have joined the fight against the Islamic State in Iraq and Syria, including volunteers from the US, Canada, the UK, Germany and other Western nations.
Among the first British volunteers was James Hughes, a former British infantryman with three tours in Afghanistan, who in 2014 joined the Kurdish People's Protection Units, the YPG, to fight against the Islamists.
Earlier this month, the first British citizen was reportedly killed fighting near the city of Qamishli on the border with Turkey.
He was later named as former Royal Marine Konstandinos Erik Scurfield, 25, from Barnsley.
A British pro-Kurdish activist reportedly informed Scurfield's family of his death.
Ex-US soldier Jordan Matson, 28, who joined the Kurdish People's Protection Units last September, wrote on Facebook: "We were together from his first day here and you couldn't ask for a more disciplined warrior."
You can share this story on social media: