​'You will be avenged, brother': British Marine killed in Syria fighting ISIS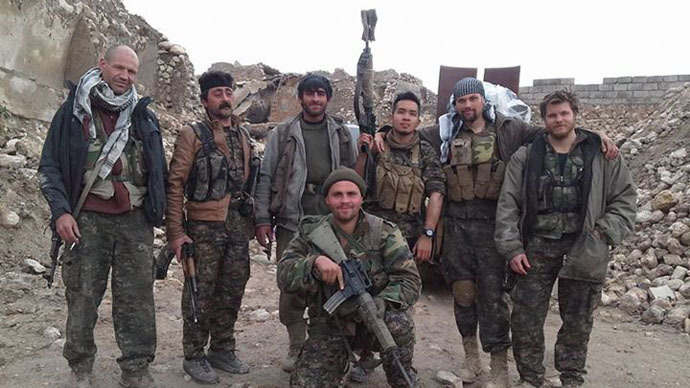 A former Royal Marine has become the first Briton to be killed while fighting with Kurdish forces against the Islamic State (IS, formerly ISIS/ISIL) militants in Syria.
The former Marine has been named as Konstandinos Erik Scurfield, 25, from Barnsley. He was killed near the city of Qamishli on the border with Turkey.
The Syrian Observatory for Human Rights earlier told AFP a European citizen had been killed fighting with Kurdish People's Protection Units (YPG) on Monday.
A British pro-Kurdish activist reportedly informed Scurfield's family of his death.
Ex-US soldier Jordan Matson, 28, who joined the Kurdish People's Protection Units last September, wrote on Facebook: "We were together from his first day here and you couldn't ask for a more disciplined warrior.
"Kosta as we call him was from the United Kingdom and was born a Greek citizen. He served both in the Greek army and as a British Royal Marine commando up until he came here. He served with me in Jezza and Shengal.
"Kosta volunteered for every attack and guard duty opportunity. He wanted nothing more than to bring the fight to the enemy.
"I'm going to carry on your legacy brother, I will never forget you. I love you man.
"Save me a place up there big guy."
READ MORE: ISIS leaders pull back from Tikrit amid massive Iraqi assault on stronghold – reports
John Foxx, an American who fought alongside Scurfield in The Lions of Rojava unit of foreign fighters within the YPG, also paid tribute to his "brother" on Facebook.
"Words cannot describe how I feel right now … I have lost family members, close friends, buddies in the Corps, but nothing has hurt as much as losing one of my Chappy brothers from the YPG.
"Hands down one of the greatest people I have ever met in my life … I cannot even begin to describe the character of this man. Every day, since the moment I was separated from my brothers, I have been dreading the news I knew was going to come eventually and it finally caught up to me. You will be avenged my brother."
Scurfield had reportedly been fighting in an area southwest of the town of Tal Hamis, which Kurdish fighters seized from the Islamic State last week. It's thought he was hit by mortar during a firefight with IS militants.
We'll never forget you #ErikScurfield. Martyr of YPG for Kurdistan and the free World. RIP pic.twitter.com/6yEfpEamQ7

— Hasan Kilinc (@hasankilinc71) March 4, 2015
A photograph showing a smiling Scurfield, kneeling in the ruins of a Syrian town alongside other fighters, also features Ashley Johnston, 28, an Australian man who last week became the first foreigner to die in the fight against IS.
Britain's Foreign Office said it was difficult to confirm these reports. It said in a statement: "We are aware of reports of the death of a British national in Syria.
"As we do not have any representation in Syria, it is extremely difficult to get any confirmation of deaths or injuries, and our options for supporting British nationals there are extremely limited."
Around 100 Westerners are believed to have joined Kurdish forces in Syria as well as other militia fighting against IS, including Assyrian Christian forces in Iraq.
You can share this story on social media: