ISIS leaders pull back from Tikrit amid massive Iraqi assault on stronghold – reports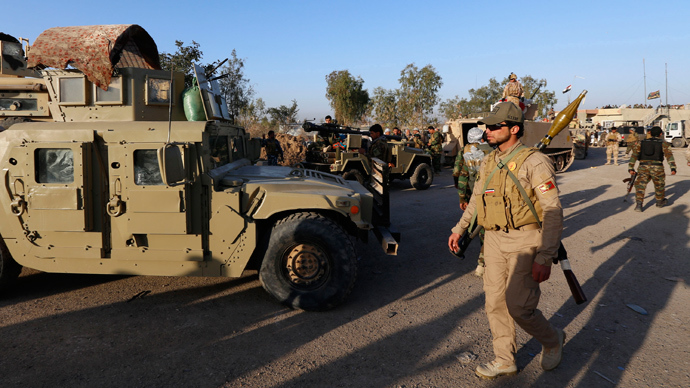 The Islamic State is reportedly pulling back from Tikrit as Iraqi troops, backed by a Shiite and Sunni alliance and led by a top Iranian general, allegedly managed to retake parts of the strategic city in a major counter-offensive against the militants.
The Iraqi forces have managed to recapture parts of the Qadisiyah neighborhood to the north of the city, Press TV reported. Meanwhile BBC cited security sources as saying that pro-government troops took control of north-eastern al-Teen and western al-Abeid districts.
"#TikritOp Gen. Qasem Soleimani commander of operations in Tikrit Air base visiting "battalion of Imam Ali" pic.twitter.com/hYuevfUh37"

— Zayneb (ر) (@Zay3alwan) March 2, 2015
Iraqi forces faced heavy resistance from Islamic State militants, with at least 16 of the advancing troops killed and 30 injured. Iraqi forces approached Tikrit from several fronts, However, the army has not yet entered central Tikrit, Salahuddin governor Raed al-Jabouri told Al-Arabiya Al-Hadath television late on Monday.
"The troops advanced without resistance in al-Teen neighborhood from the northern western side of the city and from the south, the police academy building has been controlled which is (2 km away from the building of the province) and met as residents met the forces with an overwhelming revolution of joy," said al-Jubouri, according to Lebanese daily al-Akhbar.
Iraqi army backed by volunteer forces pushes into Tikrit to retake the city from ISIL http://t.co/kUAb9uj5aw#ISISpic.twitter.com/vPRb4jcDpI

— Press TV (@PressTV) March 3, 2015
Iranian General Qassem Soleimani, commander of the Quds Force is there to supervise Iraqi Shiite militias that are trying to recapture the Salahuddin Province, according to FARS news agency.
The operation was launched after he met with Iraqi commanders and Shiite militias over the weekend, al Araby reports, citing an Iraqi military official. Soleimani will play a "supportive and not a leadership role this time," it stated.
Another picture from (IRGC-QF commander) Qassim Soleimani's visit to Samarra to oversee imminent Tikrit op. pic.twitter.com/yM7gaEdnCV

— ilhan tanir (@WashingtonPoint) March 1, 2015
The General had allegedly played a leading role in the past battles against the Islamic State in Iraq's Diyala governance and Kurdistan. Twitter is also bursting with photos of Soleimani as he advised Iraqi security forces, Kurdish Peshmerga fighters and Shia militiamen.
At the end of December, Iran entered into agreement with Iraq to help with the continued aggression from the Islamic State group. Earlier it was reported that Iran has been training and equipping Iraqi Shiite militias since the summer.
#Qassem Soleimani in #Diyala with 120 mm MLRS. Should be top of our targeting efforts. pic.twitter.com/zjJtsf75LL

— Daniel Greenwood (@DQGreenwood) February 28, 2015
Backed by Shiite and Sunni fighters, the Iraqi army, numbering some 30,000 soldiers, launched a large-scale military operation on Monday to recapture Saddam Hussein's hometown from Islamic State (formerly ISIS). This is the sixth attempt since June 2014 by Iraqi forces to retake Tikrit currently in control of an estimated 13,000 fighters.
"The army, federal police, Popular Mobilisation (volunteer) units, and the sons of Salaheddin's tribes are performing the duties of liberation in the largest operation against Daesh (ISIS) since June," a senior army officer on the ground told AFP. "We are certain of victory... but the operation is not easy."
#IRGC QF Commander Qasem #Soleimani leads a group prayer, probably in Iraq (no place or date mentioned). pic.twitter.com/Oj18igYmjg

— raz zimmt (@RZimmt) February 28, 2015
Apparently airstrikes were involved prior to the start of the attack, but the Pentagon said it did not send out its jets. "We're not providing air strikes in support of the operation around Tikrit," said Pentagon spokesman Colonel Steven Warren.
Located almost halfway between Baghdad and Mosul, Tikrit is an important transit hub between the capital and the northern city. Controlling it is vital for the government.
"[Tikrit's] liberation will mean liberating the whole province," Rafid Jaboori, spokesman for the Iraqi premier told Sputnik. "That will show the world once again the determination of the Iraqi government to liberate its land and protect its people no matter what their religious or ethnic background might be."
You can share this story on social media: