​Huge fire at school near London, residents report explosion
Published time: 13 Mar, 2015 14:18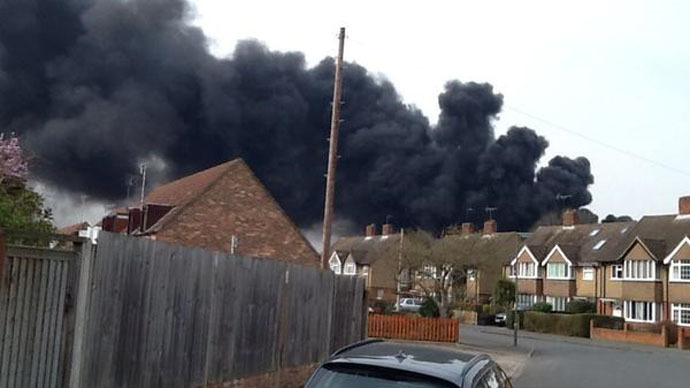 A huge fire has swept a school in Surrey, south of London, following reports of an explosion, with around 40 firefighters at the scene tackling the blaze.
Ambulances and a helicopter are at the scene. Police confirmed that all individuals had been accounted for.
Get Surrey reported the clouds of black smoke could be seen throughout Weybridge.
Chris Marchington told the paper he was in his back garden with his son when he heard the explosion.
"It was the beginning of a smallish fire at that point, on the roof of the new build that's happening at St George's School," he said.
"It's now a major fire."
Huge fire in Weybridge right now. Follow us for more updates: http://t.co/du7ViQn7CMpic.twitter.com/VxObnLG64q

— Get Surrey (@getsurrey) March 13, 2015
He added that he had heard "very nasty bangs," which he described as "really grim"with a"nasty smell."
Marchington reported that small flecks of ash and charcoal were drifting down over streets near the school.
Neil Davison, general manager of Weybridge Heath Club in Walton Lane near the site, told the website the fire was "absolutely huge."
@getsurrey#Weybridgepic.twitter.com/O0i05aKUsX

— Matt Leisegang (@MattLeisegang) March 13, 2015
"There was a small explosion, big enough for us to hear and there were flames on the roof of the new building,"he said.
"Things then just escalated really quickly," he said.
A Surrey Fire & Rescue Spokesman said: "We were called to a fire in Thames Street, Weybridge at 12:37 and have sent eight fire engines, a number of specialist vehicles and around 40 firefighters to the scene.
"We can confirm the exact location of the fire is a construction site on the premises of St Georges School in Thames Street, Weybridge, and everyone at the scene has been accounted for."