​'Passionate Zionist' UK ambassador lobbies British universities over 'Israel's right to exist' forum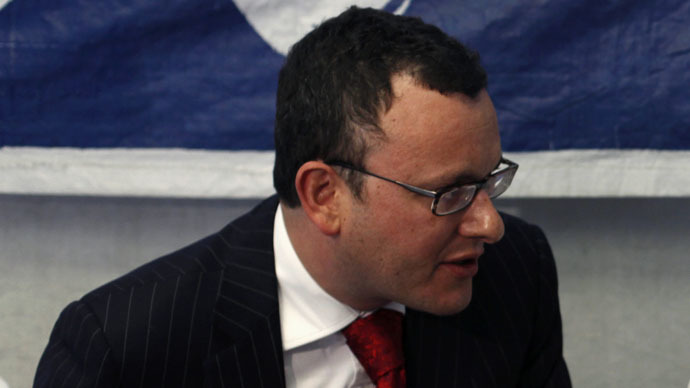 Britain's ambassador to Tel Aviv represented the UK's Jewish community in talks with college heads after the University of Southampton refused to cancel an academic conference on Israel's right to exist under international law, it has emerged.
Matthew Gould, who has served as ambassador to Israel since 2010, met with four vice-chancellors from the umbrella group Universities UK in early February.
The delegation included representatives from the Board of Deputies of British Jews, the Jewish Leadership Council, and the Union of Jewish Students.
The Jewish Chronicle reports that discussions focused on anti-Semitism in the UK, boycotts of Israel and "extreme" speakers at universities.
The latter topic is likely to be a reference to an upcoming conference focusing on "historic Palestine" at the University of Southampton, which critics describe as being part of a "war against Israel."
Gould's presence at the meeting raises questions over the impartiality of Britain's most senior diplomat in Tel Aviv.
British diplomats are not based in Jerusalem because the city's status has yet to be determined.
READ MORE: Jewish leaders condemn British university debate on Israel and international law
A Foreign and Commonwealth Office (FCO) spokesperson said Gould, who will leave his position this summer, discussed "areas of concern about anti-Semitism on campus."
"Both sides agreed that universities needed to provide a safe and welcoming environment for all their students, and ensure that freedom of expression within the law was upheld," the spokesperson told Middle East Monitor.
When pressed on the justification for the meeting, the FCO said "Part of Matthew Gould's role involves outreach to the British Jewish Community."
Gould is Britain's first Jewish ambassador to Israel and has previously declared himself "a passionate Zionist."
In an interview with the Jewish Telegraph shortly before taking up the post, he said he had considered a possible conflict of interest in taking the role.
However, he concluded that "being Jewish gives me a really good basis to do the job."
STOP #wannse hate conference #Southampton University. @uniSouthamptonpic.twitter.com/FgFEiQ2ngt

— Jewish HR Watch (@jhrwatch) March 9, 2015
Gould said at the time Britain will continue to "support Israel, its security situation and we will continue in pursuit of peace."
The meeting between Jewish community representatives and four UK college heads was initially reported as being about a range of issues, including anti-Semitism and Israel boycotts.
According to the Jerusalem Post, however, the discussions looked at academic freedom of speech in particular.
Jewish representatives "tried to frame a debate as to where the line is crossed between freedom of speech and discourse which affects Jewish academics and students on UK campuses," the newspaper reported.
READ MORE: 'Jew, Jew, Jew... Run': Social experiment suggests rising UK anti-Semitism
"The point was made that while some vice-chancellors can and do try to intervene when there are specific difficulties raised with them, others tend to resort to the 'freedom of speech' mode which effectively bars them from considering valid representations on behalf of the Jewish community."
While the University of Southampton's upcoming conference was not mentioned in reports of the meeting, it is likely to have featured in discussions on academic freedom.
The institution's controversial conference on Israel's right to exist under international law in relation to "historic Palestine" has received scathing attacks from critics.
An article in the right-wing online magazine American Thinker described the conference as "totally biased and tendentious, comprising an intellectual assault on the existence of Israel."
Author Michael Curtis went on to say it was "in reality a kind of intellectual and hateful part of the political campaign in the war against Israel. It is not an academic exercise seeking the truth, but a cover for a one-sided indictment of Israel."
A spokesperson for the University of Southampton defended the right of academics to explore "controversial issues."
"The conference aims to examine the role international law can play in political struggles and to act as a platform for scholarly debate, welcoming academic contributions from a range of perspectives," the spokesperson said.