​'Hubris, cowardice, delusion': MP blasts generals & politicians in defense debate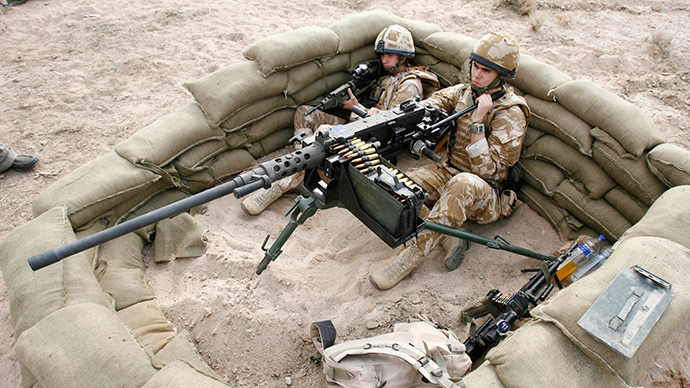 The record of Britain's political and military leadership is lamentable, with "delusion" and "cowardice" continuing to color debate on defense and the military, a firebrand MP told a Commons debate.
At a much-hyped backbench debate on defense cuts and the ability and willingness of Britain to fund its share of NATO spending, Welsh Labour MP Paul Flynn lambasted the government's record.
Referring to a commemoration event for those killed in Afghanistan due to be held Friday, Flynn quoted senior military officers who had, in his view, criticized the war only after going along with it.
"I'm sure all of those gentlemen will be there tomorrow with a tear in their eye, sincerely regretting the death of 450 of our brave soldiers."
Raising his voice, he said: "Where were they, when something could have been done about it? Why were their mouths bandaged when those decisions were taken sending those young men to die in vain?"
"They were there silent. Cowardice by those military men."
READ MORE: Govt deems security risks too low to 'exempt defense from austerity'
Flynn said that "delusion" was still coloring debate on foreign policy and the "mythical" 2 percent of Britain's gross domestic product (GDP) required by NATO.
He also lamented Britain's lack of an independent foreign policy.
Referring to concerns over UK defense spending expressed by US army chief of staff General Raymond Odierno, Flynn said: "Does no one protest that we have an American general telling us what to do with our budget? What's it got to do with him?"
The debate was opened by Conservative MP John Baron. He warned against a "political disconnect between commitment and funding which is not being recognized across the political divide. Interventions have been distracting us from threats. We must take the long view. As one who opposed them all, we must dispel the demons of Iraq, Libya, and Afghanistan."
Baron added: "It is doubtful Putin would be operating as he is now if he though NATO would stand up robustly. We must recognize the greater danger of state on state threats which never really went away."
Another Conservative MP, Zac Goldsmith, said: "Any move to disinvest in defense is sheer lunacy."
Rory Stewart MP, who serves as the Tory chair of the Defense Select Committee, said the UK's strategic security aims must shift in response to the re-invigoration of an old threat and the emergence of a new one.
READ MORE: Spies + defense: Cameron proposes budget merge to meet NATO goal
"Firstly we have a return to a threat of a state with an advanced military capacity," he said.
"If we are going to think about maneuverer warfare we have to think about armored warfare, wide water bridging capacity, what we do on cyber, information operations and strategic communications, (Special Forces) capacity right the way around the edges of Russia.
"Secondly, concurrent threats, in Yemen, in Libya, in Syria … those same threats happening in half a dozen countries at the same time."
The veteran Liberal Democrat MP Menzies Campbell said: "If we do not have sufficient defense we will diminish our capability, we will reduce our influence and we will limit the options of government, we cannot afford any of these."
Despite being heavily publicized in recent weeks as a crunch event for Prime Minister David Cameron's election plans, the backbencher-called debate was sparsely attended.
In closing, Baron urged the House to "rediscover the political will for strong defense."
MPs voted 37 to 3 in favor of spending 2 percent of British GDP on defense, but the motion has little chance of becoming law.
You can share this story on social media: