Laser weapon prototype to be built by UK military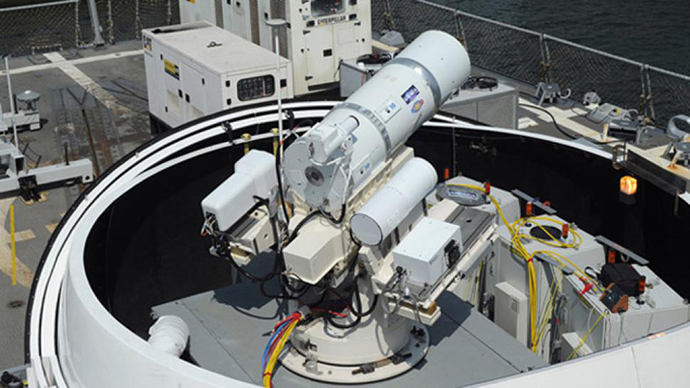 The UK Ministry of Defense is preparing a prototype "Star Wars" laser weapon. Britain has followed the lead of the US Navy, which tested its "highly effective" weapon last year on the USS Ponce in the Persian Gulf.
Fired from a warship, the laser weapons are able to shoot down missiles and drones, and destroy other naval targets. Under the Geneva Convention, lasers cannot be used as anti-personnel weapons.
The project, known as the Laser Directed Energy Weapon Capability Demonstrator, will cost up to £100 million, according to the MoD.
It is expected to "become a critical defense on a future generation of warships," as it is thought to be both economical and precise.
Weapon trials aim to determine whether a high-energy laser prototype can track and hit targets in any weather.
The MoD is seeking support from defense firms to build these prototypes to "enhance the UK's understanding of the capability of a laser-based weapon system."
According to the MoD, the potential of laser-based weapon systems is an "opportunity" to "dominate battlefields," as they appear to be more cost-efficient than conventional missiles, shells and bullets.
Ben Goodlad, principal weapons analyst at HIS Aerospace, Defence and Security, told The Guardian: "Laser weapons are expected to appear on the battlefield within the next decade."
"Already the US has deployed their naval weapons system in the Gulf for operational testing," he said.
The only thing Britain does not yet have "is industrial production of laser weapons," Goodlad said, adding: "The main attraction once you have the technology in place is it doesn't require reloading or a logistics chain."
However, their short range means they are unlikely to fully replace missiles that can hit fast-moving targets many miles away.
You can share this story on social media: