​Banksy spy mural causes headache for Grade 2-listed house owner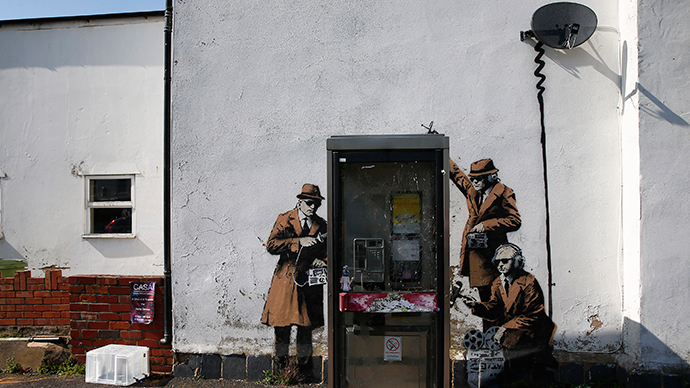 The owner of a house near the UK base of security agency GCHQ, where British street artist Banksy painted a now-famous mural depicting spies, has described how his life "unraveled" after it appeared.
Speaking publicly for the first time, David Possee, of Cheltenham, said he liked the mural when he first saw it painted on a house he was renting out.
But after a series of disputes with the local council over what to do with the painting the whole issue became "a bit messy."
Possee, 45, told community radio station Swindon 105.5 that the local council should buy the building from him if they want to keep the artwork.
Banksy's painting satirizing the illegal spying of intelligence agency GCHQ appeared in April 2014.
The mural followed Edward Snowden's revelations which showed British and American spies were able to monitor ordinary citizens through the internet.
READ MORE: Banksy in Gaza: Haunting images among ruins of war
While Possee said he thought it was "quite nice" when he first saw it, the mural quickly became a headache.
He said: "It all unraveled when this mural appeared on the side of the property."
Possee has criticized Cheltenham Borough Council for expecting him to repair the cement render on the wall of his Grade-2 listed house, but then preventing him from removing it after the mural was also granted listed status.
He told Swindon 105.5: "They didn't come up with any sort of ideas. So I suggested Perspex but they said it's against listing consent."
"They just said 'you can't put that on there,' and I was threatened with a fine. They offered no alternative."
Possee went on to describe how discussions with the council became "messy."
Cheltenham council vote 12-1 to protect #banksy 'spy booth' by including it as part of listed building @BBCGlospic.twitter.com/BS5DbT6feP

— Katie Bilboa (@kbilbster) February 19, 2015
"We had the scaffolding up and then we had a huge panic in Cheltenham thinking I was going to cut it out, which was not the case," he said.
"Suddenly there's a 28-day stop notice issued on me, so I couldn't repair the render, which they [fined] me for not repairing. So it was all starting to get a bit messy."
He accused the local council of not including him in discussions about the mural.
"They weren't working closely at all with me," he said.
Possee has shied away from speaking publicly about the painting, preferring to go through intermediaries such as his business partner, Roger Wilson, or art dealer Robin Barton.
READ MORE: Banksy arrest is hoax, identity still mystery
During the interview, he hit back at those who suspected him of trying to sell the artwork.
"I've had substantial offers from people who collect this kind of artwork – and if it was about money for me I'd have sold it by now."
"If Cheltenham wants it, Cheltenham can have it. But I need to get on with my own life. So buy the building off me," he said.
Martin Chandler, a team leader of development management at Cheltenham Borough Council, denied that the council was being unhelpful.
He said: "There has been ample opportunity for Mr Possee to discuss a positive way forward for the mural but unfortunately this has not happened."