Banksy arrest is hoax, identity still mystery
Published time: 21 Oct, 2014 08:20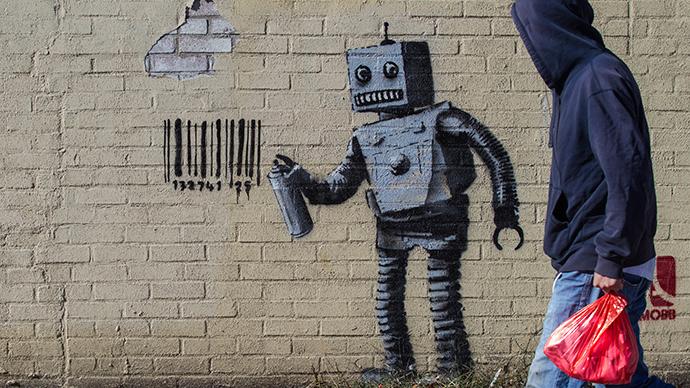 Banksy, the famed UK-based graffiti artist, political activist and a film director, has not been arrested and his identity remains hidden, despite a social media frenzy around a hoax report of his detention which appeared on National Report.
"The Banksy arrest is a hoax," the street artist's publicist, Jo Brooks, told the Independent, after an article circulating on Twitter claimed that Banksy has been detained in Watford by a "24-hour Anti-Graffiti Task Force." Brooks also confirmed the hoax via Twitter.
Banksy arrest hoax: Internet duped by fake report claiming that the street artist's identity has been revealed http://t.co/gpGBtKIF1b

— jo brooks (@brightonseagull) October 20, 2014
The National Report has claimed in its report that that the identity of the British street artist with a pseudonym Banksy had finally been revealed, which allegedly identified him as a 35-year-old Paul Homer from Liverpool.
The story also stated that the man is being held by London's Metropolitan Police "without bail on charges of vandalism, conspiracy, racketeering and counterfeiting." The report also said that Banksy's London art studio had been raided, where "thousands of dollars of counterfeit money along with future projects of vandalism" were discovered.
But a number of publications, have pointed out the fraudulent narrative, saying that first of all that Banksy isn't from Liverpool, rather from Bristol, and that the same article was circulating last year as a press release, but claimed a different man to be the artist.
No Banksy Hasn't Been Arrested, But He Did Just Update His Website With A New Piece In Bristol - ANIMAL http://t.co/EWoxrAgITo

— jo brooks (@brightonseagull) October 20, 2014
Banksy's real identity has been kept secret ever since his work emerged in 1992, but multiple hoax stories have emerged claiming to expose the artist's true identity.
Just in case anyone doubted that Banksy was arrested, the artist revealed his new masterpiece to the world on his website on a wall in Bristol of his own version of Dutch painter Johannes Vermeer's 'Girl with a Pearl Earring'.
'Girl with a Pierced Eardrum' can be seen in Hanover Place in the city's Harbourside.
Brand new #Banksy tribute to 'The Girl with the Pearl Earring' located in the Bristol Docks #art#streetart#Banksypic.twitter.com/JO5VKRAz9B

— Street Art (@GoogleStreetArt) October 20, 2014