MPs with high-salary 2nd jobs 'less active' in Parliament, study shows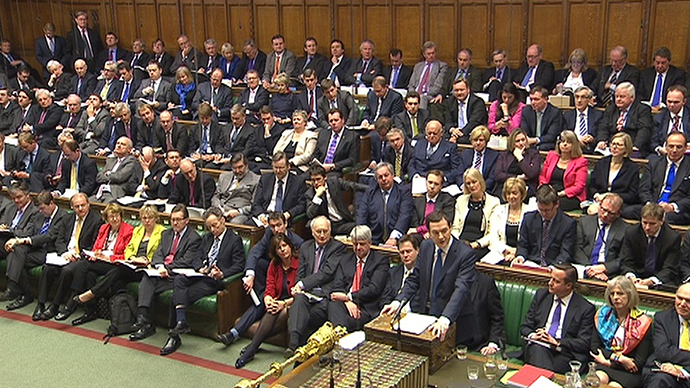 MPs with the most lucrative earnings from jobs outside of politics contribute to fewer parliamentary debates, are absent for more votes and submit fewer written questions than other Members of Parliament, a new report suggests.
The research, which examined the activities of Britain's 20 top-earning MPs, was conducted by Ed Miliband's opposition Labour Party.
The report reveals these high-earning politicians have participated in 22 percent fewer debates than their parliamentary peers since March 2014.
It indicated that Britain's top-earning MPs tendered almost 40 percent fewer written questions than their colleagues who do not have second jobs.
Additionally, the high-earning MPs failed to turn up for 373 votes on average – a 7 percent higher absentee rate than their parliamentary colleagues, the report said.
READ MORE: Moonlighting MPs: Labour seeks ban on 2nd jobs, despite ex-PM Brown earning £1mn on the side
The 20 politicians who earn the highest amount from roles outside of their parliamentary duties are predominantly Conservative Party MPs, the research revealed.
While 16 are Tories, one is Labour and one is a Liberal Democrat. Second salaries ranged from £87,500 to £452,545, the report said.
The top four earning MPs with second jobs were three Conservative Party MPs who happen to be barristers: Geoffrey Cox QC, Sir Edward Garnier QC and Stephen Phillips QC.
The fourth is Labour's former leader and ex-PM Gordon Brown, whose second salary amounts to £390,157. Geoffrey Cox is the top earner with a second salary of £452,545.
Reflecting on the research, a Conservative Party source told the Guardian: "There is more to representing constituents than sitting in Westminster submitting endless written questions and enjoying the sound of your own voice."
"All the same, it's good that Labour finally want to draw attention to Gordon Brown's contemptible failure to turn up during this parliament."
Brown told the paper, however, his outside earnings bring him no personal gain and are either channeled directly to charity or towards the financing of his and his spouses "ongoing involvement in public life."
The report's release follows Labour chief Ed Miliband's call for an outright ban on MPs holding consultancies and directorships, as well as a cap on MPs' second salaries.
READ MORE: Rifkind resigns as MP & Committee Chair over 'cash for access' sting
It was sparked by the release of a secret film showing ex-Foreign Secretaries Jack Straw and Malcolm Rikfind discussing how they could use their political stature to aid a fictitious Chinese firm in exchange for cash.
Straw and Rifkind, both former foreign secretaries, were duped by reporters from the Daily Telegraph and Channel 4. The undercover journalists posed as the fake firm's staff, looking to gain access to politicians and senior establishment figures.
Rifkind stepped down as chairman of the Intelligence and Security Committee and resigned as an MP after the scandal broke.
Both men have now reported themselves to the Parliamentary Standards Committee, with Straw saying he had fallen into a "very clever trap" and Rifkind acknowledging his comments had been "silly."
Sheila Gilmore, Labour MP for Edinburgh East and a member of the Public Administration Select Committee, said Prime Minister David Cameron is "defending a broken system."
"All MPs should focus on their constituents' interests, not their own," she said.
"David Cameron is once again failing to stand with working people who want to see change. We have a chance to restore trust in politics, but David Cameron is failing to take action."