​Farage: 'If the Green Party won the election, we'd all be living in caves'
Published time: 11 Mar, 2015 15:32
Edited time: 11 Mar, 2015 17:09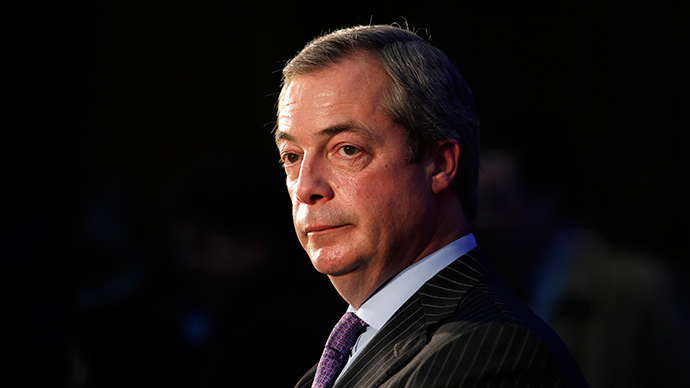 The origins of climate change are unclear and the Green Party is peddling a regressive brand of politics. That's according to UKIP leader Nigel Farage.
He also questioned the UK's contribution to climate change, telling Spiked magazine: "We are a nation that produces 1.8 percent of global carbon dioxide, so I do not get closing down our aluminum smelters, most of our steel production, and now our refining industry, and all that production being moved to India, and therefore the steel-based products made in India then having to be shipped back to Britain."
"This to me makes no sense at all."
Farage called the UK's wind energy program the "biggest collective economic insanity I've seen in my entire life."
Farage also criticized Green Party leader Natalie Bennett, whom he may face in a planned series of televised debates.
"If Natalie Bennett won the election, we'd all be living in caves," Farage said disparagingly.
READ MORE: 'I'd be a bad prime minister,' UKIP's Farage admits
"[This politics] is very regressive. There is nothing progressive in terms of the evolution of society or living standards in what these people stand for. The whole thing is based on a fallacy: that our fossil fuels are going to run out and therefore we have to adapt the way we live."
Farage said he was "agnostic" on the causes of climate change, likening the widely accepted theory to "a religion."
"And you're demonized if you question it. Ostracized completely ... We're almost back to Galileo. Whether it's Galileo or Darwin, you challenge consensus, whether it's in science, whether it's in politics, and you are demonized for doing it."
Farage's flightiness on the causes of climate extremes jars with the confident analysis of past United Kingdom Independence Party (UKIP) politicians.
READ MORE: UKIP Councillor blames gay marriage for Britain's 'storms and floods'
In 2014, UKIP councilor David Silvester attributed a period of severe flooding and storms in the UK to the Conservative government's legalization of gay marriage.
Writing in the Henley Standard in January 2014, Silvester said: "The scriptures make it abundantly clear that a Christian nation that abandons its faith and acts contrary to the Gospel (and in naked breach of a coronation oath) will be beset by natural disasters such as storms, disease, pestilence and war.
"I wrote to David Cameron in April 2012 to warn him that disasters would accompany the passage of his same-sex marriage bill."
Silvester was later suspended.
MORE:
Mike Hookem, UKIP Defense Spokesman gives his reaction toCameron's plan to mix Mi5, Mi6 & GCHQ budgets