Battle lines: Defense spending cuts could break the Tories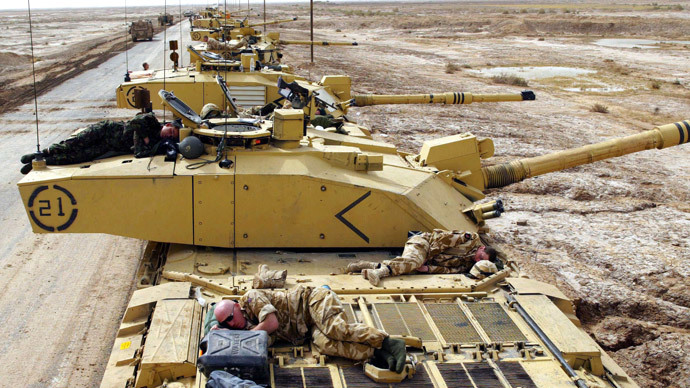 Up to 30 rebel Tory MPs may try to force a vote on military cuts at a parliamentary debate next week, amid allegations that Foreign Secretary Philip Hammond said there were "no votes in defense."
The row centers on the question of whether the UK will meet the symbolic NATO commitment of spending two percent of GDP or opt to freeze military spending. It's due to be discussed in the Commons on Thursday.
The debate has become ever more fraught following accusations that FCO chief Hammond – who until recently led the MoD – said that defense is not a vote winner.
READ MORE: Cannon fodder? Military chiefs oppose US control as ex-Army MP threatens to quit
Hammond aides deny the comments were made, but senior Tory figures have responded critically, pointing out the traditional Conservative commitment to defense and raising fears the issue could split the party going into the general election in May.
Rory Stewart MP, Tory chair of the Defence Select Committee, told the Times Britain's status in the world is tied to its security.
"The fundamental point is the world is unfortunately more dangerous now than it has been in the past 20 years at least."
"That means major powers like Britain have to spend more on defense."
Sir Gerald Howarth MP, himself a former defense minister, told the Daily Mail that moving away from the party's traditional commitment to the military was risky.
"There is a view at the top of the government – I don't think the prime minister shares it – that defense isn't a vote winner."
"But what they have to understand is that defense is part of the DNA of the Conservative Party. And that's true even in constituencies which don't have a garrison. Conservative voters instinctively believe that defense of the realm is the first priority of government."
READ MORE: 'Very concerned': Top US general attacks UK military spending cuts
Last week, US Army Chief of Staff Raymond Odierno aired his concerns over UK defense cuts.
Following on from the UK's Strategic Defence Spending Review, the Royal Navy and the Royal Air Force (RAF) are both preparing to lose 5,000 regulars and gain 500 reservists over the same period.
"We have a bilateral agreement between our two countries to work together. It is about having a partner that has very close values and the same goals as we do," explained Ordierno at the New America Foundation's 'Future of War' conference.
"What has changed, though, is the level of capability. In the past we would have a British Army division working alongside an American army division," he added. Cuts mean the US Army now expects Britain to provide only half its previous commitment.
Concerns have also been aired at the highest level of American civilian authority. During private meetings with Cameron in Washington in January, Obama said reducing spending levels from the current two percent of GDP would undermine NATO agreements.
Britain is currently one of only four NATO members maintaining the target, but Obama is reported to have told Cameron: "If Britain doesn't spend two percent on defense, then no one in Europe will."
You can share this story on social media: