Save the Children apologizes for handing Tony Blair legacy award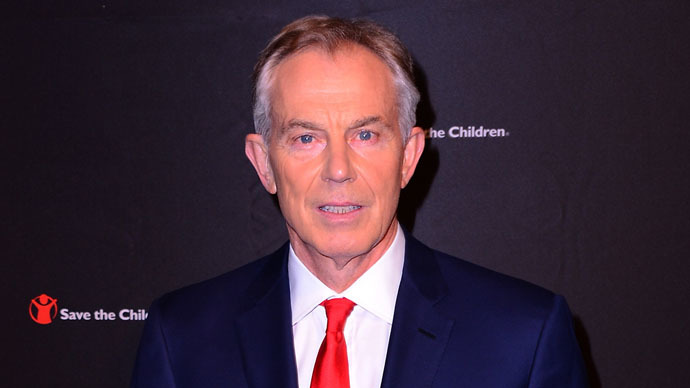 The charity which came under fire for presenting former Prime Minister Tony Blair with a global legacy award has apologized for upsetting staff and supporters.
Justin Forsyth, Chief Executive of Save the Children, said he was "very sorry" to staff and members of the public who were offended by the decision, saying the issue was an "unnecessary distraction."
Forsyth, a former aide to Blair, told the BBC's Today program: "I know that many of our supporters and volunteers were very upset and our staff, several of our staff too, and I'm very sorry for that."
He said it was "wrong" to have given the former PM the award for his global work, rather than his action in Africa specifically.
The apology follows a widespread backlash against the decision, with an online petition garnering over 100,000 signatures. The petition called for the award to be rescinded, with over 500 staff at Save the Children backing that request.
Protesters were outraged that the charity had seemingly overlooked Blair's decision to invade Iraq as part of the US-led offensive in 2003, which was responsible for the killing of thousands of civilians.
Forsyth said the decision to hand Blair the award was made by the charity's "sister organization" in America, where Blair did not have as controversial a reputation.
READ MORE: 'Diabolical & absurd': Outrage as Save the Children gives Tony Blair Global Legacy Award
He further said the award was only for his work in Africa.
"Yes, it was a global legacy award. It was called that. But actually it was an award very, very specifically for Tony Blair's efforts on Africa at two G8 summits at Birmingham and Gleneagles, not his wider legacy."
"And if it had been for his wider legacy I think it would be wrong, but it was for something quite specific that helped Africa and children," Forsyth said.
"I'm sorry it's upset so many people. It's not really what we do at Save the Children. What we're really doing is on the ground in Syria with the Ebola treatment center in Sierra Leone – that's the work we do.
"This has been really an unnecessary distraction. I do apologize to those people that it's upset," he added.
Forsyth accepted that damage to the charity's reputation had been caused "in part" by the row, but hoped that supporters would accept that organizations "make mistakes."
Forsyth was recruited as an aide to Blair to help tackle poverty and climate change. A Save the Children biography says he was "one of the driving forces behind the Make Poverty History campaign."
Before eventually joining Save the Children, he was a strategic communications and campaigns director for former Prime Minister Gordon Brown.
You can share this story on social media: