Turning the tide? World's first lagoon power stations reach British shores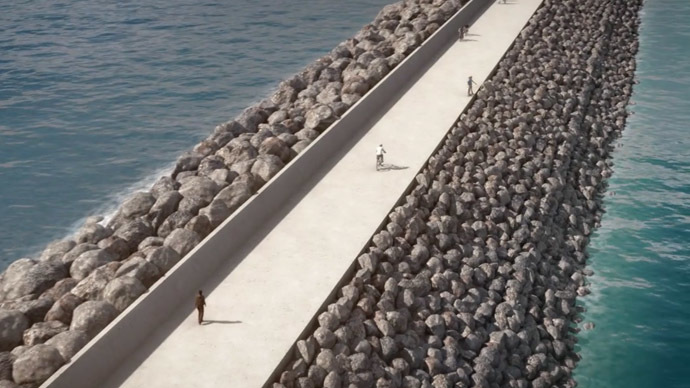 Plans to generate electricity from the world's first batch of tidal lagoon power plants have surfaced in Britain. The power stations could yield 8 percent of the UK's electricity requirements, experts suggest.
Spanning from Wales to Cumbria, the power plants would harness giant walls to capture incoming and outgoing tides. The weight of nearby sea water would power turbines and produce electricity in the process.
A £1bn Swansea program, estimated to be capable of producing enough energy for 155,000 households, is currently being planned. Britain's Energy Secretary Ed Davey has expressed interest in backing the project.
Although the cost of generating electricity from the program will be high, the company behind the development says subsequent lagoons will be able to produce electricity far more cheaply.
Press release: Tidal lagoons could play significant role in generating UK's electricity: https://t.co/h4fLwvJxL9pic.twitter.com/DqwOqIe6dX

— Friends of the Earth (@wwwfoecouk) March 2, 2015
The firm is planning a total of six lagoons in the UK – costing £30bn. It says the power plants could potentially yield 8 percent of the union's electricity requirements.
Potential lagoon sites are Cardiff, Newport and Colwyn Bay in Wales; Bridgwater in Somerset; and West Cumbria.
Each project will require advanced engineering.
In Swansea, the sea wall due to contain the lagoon will span over five miles and stretch two miles out to sea.Associated costs would be shouldered by electricity bill-payers under a current government scheme to develop greater levels of low-carbon, homegrown energy.
Tidal Lagoon Power, the new energy firm behind the development, is currently negotiating with the government what it should charge customers for its power.
A former plan to construct a tidal lagoon on the Severn, Britain's longest river, was blocked after environmentalists warned that it would impede upon the daily exposure of mud banks that are essential for wading birds.
However, the Swansea-based lagoon development does not interfere with estuaries, and allows tides to flow normally.
Tidal lagoon energy plants plan to provide energy for all homes in Wales has been launched http://t.co/D0eFjIykGepic.twitter.com/a8sVm6Xysq

— Sky News (@SkyNews) March 2, 2015
Gareth Clubb, Director of Friends of the Earth Cymru, said the group is largely in favor of the project planned for Swansea.
"It's not unqualified approval," he added, emphasizing that the group "want to make sure that the environmental impact can be managed."
By contrast, fishermen have expressed concern about the project's potential impacts on fish migrating to reproduce in nearby rivers.
Phil Jones, who fishes on the River Tawe, said the plan had not been questioned "loud enough or widely enough."
"We would very strongly oppose any plans for this and other lagoons down the South Wales coast," he told the BBC.
You can share this story on social media: