​Failed counter-terror measures allowed 'Jihadi John' to flee UK – Labour
Published time: 2 Mar, 2015 18:19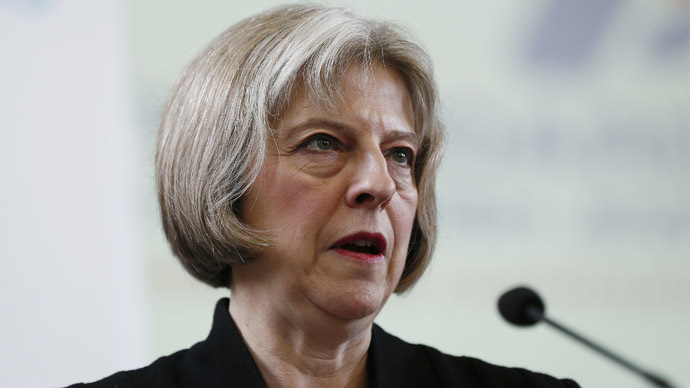 Home Secretary Theresa May has responded to urgent questions in Parliament over accusations the government's counter-terrorism policies enabled Mohammed Emwazi, the Islamic State killer known as "Jihadi John," to flee to Syria in 2013.
May appeared before the House of Commons on Monday afternoon to answer an urgent question from Shadow Home Secretary Yvette Cooper concerning the government's relaxation of counter-terrorism policies in 2012.
The Labour Party says the government's decision to cancel relocation powers and replace them with Terrorism Prevention and Investigation Measures (TPIMs) has made it easier for known terror suspects to join fighters in Syria.
May refused to accept these claims, insisting police have never suggested such powers would help prevent terror suspects leaving the UK.
Her comments come as it emerges Mohammed Emwazi, the executioner who appears in several Islamic State videos, fled the UK to Syria in 2013.
This was one year after the government rescinded powers to forcibly move individuals around the country – effectively internal exile.
Cooper told the House of Commons that 600 British citizens have traveled to fight in Syria, including schoolchildren.
READ MORE: 'Jihadi John' known to MI5 since 2008, but they let him escape – report

One suspect who absconded did so dressed in a burqa, while another man escaped in a taxi, she said.
The Shadow Home Secretary put pressure on May to admit the coalition government's decision to remove relocation powers was responsible for these oversights.
"The home secretary's decision to abolish control orders and cancel relocations was implemented in 2012, despite the continued police views it was the best way to disrupt terrorist networks," Cooper told MPs.
She went on to ask May: "Has the decision to remove relocation orders made it easier for the West London network to operate, recruit and send people to Syria?"
May responded by saying the government's decision to stop relocation powers was based on the situation at the time.
"The situation has changed since then," she said.
May said the courts were weakening Labour's previous system of "control orders," when the coalition government decided to replace them.
She also said high profile cases of terror suspects fleeing the UK currently being discussed in the media relate to the time when relocation powers were in place.
The home secretary went on to say it was impossible to stop every terror suspect leaving the UK.
"Short of locking someone up for 24 hours a day, you can't eliminate the risk that they pose," she told MPs.
READ MORE: 'We will do everything we can to track down Jihadi John' – Cameron

May added the government's recent decision to reintroduce relocation powers under TPIMs will help prevent suspected terrorists leaving the country.
The Home Secretary refused to answer questions about Mohammed Emwazi, stating: "I'm not going to comment on any individual case where investigations are taking place."
However, she affirmed the government's desire "to bring to justice the individual who is responsible for the beheading of British hostages."
While Labour failed to gain an acknowledgement of the government's "mistake" in rescinding relocation powers, both major parties used the opportunity to demonstrate their tough stance on terrorism.
Only Liberal Democrat Julian Huppert MP suggested the debate itself was of concern.
Huppert later tweeted: "Tory MP trying to compete w Labour for authoritarianism award, calling for scrapping human rights rules & bringing in snooper's charter."