Farage set for Westminster win, as 'Nazi dance troupe' trolls UKIP conference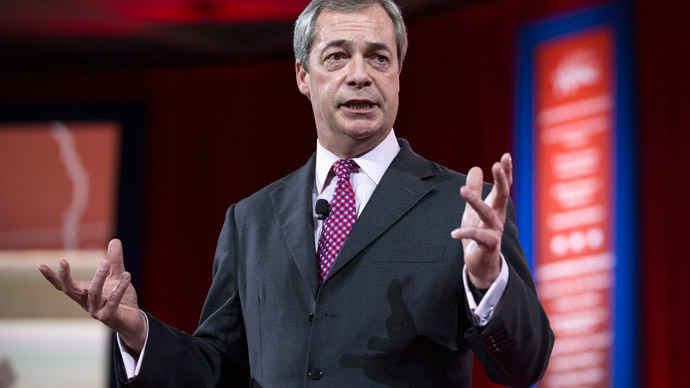 As the UK Independence Party (UKIP) spring party gathering begins, a poll suggests its leader, Nigel Farage, will win a seat in Parliament in May's general election. However, conference delegates arrived to the sight of a swastika-clad dancing troupe.
Research from Survation placed Farage's popularity in the South Thanet constituency at 39 percent, putting him ahead of his Labour Party rival Will Scobie on 28 percent and Conservative candidate Craig Mackinlay on 27 percent.
The morale-boosting figures, however, are subject to some scrutiny as they were compiled for UKIP party donor Alan Brown, who was criticized in 2013 for commissioning polls deliberately to "scare" the Tories.
The figures will be welcome reading for UKIP, as a number of recent surveys suggest their rising national popularity has stagnated, something they are hoping to rectify at their two-day conference in Margate, Kent.
The party's spring conference follows Farage's visit to the US, where he used his platform at the Conservative Political Action Conference to repeat his previous warning about the "fifth column" of Islamic extremism in the West.
READ MORE: 'I have a problem with negroes': UKIP councillor expelled for racism has 'no regrets'
"We should be massively proud of our achievements in past times but we should be aware that we now have in our countries, sadly, an enemy within, a fifth column as I've called it in the past, and we have got to get grip on this situation," he said.
"We have got to reassert who we are and what we stand for and I want Britain and America to be the best of friends and the best of allies going on from here."
"I want liberal democracy in the West to succeed and if we want that, folks, we are going to have to stand up and fight for it," he added.
Farage is expected to use the latest immigration figures, which showed that nearly three times as many immigrants moved to the UK last year as the government promised, to push his anti-immigration policy.
Not all residents of Margate are convinced, however.
Attendees of the conference were met on Friday morning with a swastika-clad dancing troupe and model tank, in a recreation of the 'Springtime for Hitler' scene from hit musical 'The Producers', spotlighting many of UKIP's policies which have been labelled 'fascist'.
"Springtime for Hitler", tank & swastika-clad girls - not best start to Ukip conference. Amazing PR for Producers pic.twitter.com/wUZvZGz8Ek

— Michael Crick (@MichaelLCrick) February 27, 2015
While dancing girls and costumed Nazis pose little threat to the party's conference, Farage has reportedly requested bodyguards to prevent him being attacked by left-wing protestors.
Farage made the request to the Home Office last week. MI5 will now assess his case to determine whether he needs specially-trained officers – at taxpayer's expense.
The leader was recently forced to abandon a walkabout in Rotherham after protesters blockaded his exit from the local party branch office.
Speakers at the Margate conference will include MPs Douglas Carswell and Mark Reckless, who both defected to UKIP from the Conservatives.