​'Disillusioned': UKIP's LGBT chairman quits, says party isn't 'gay friendly'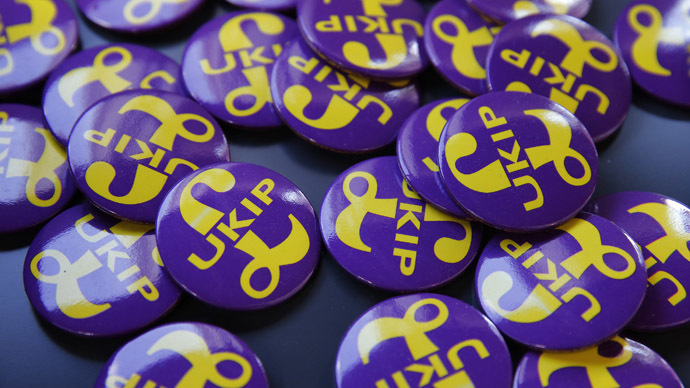 A gay UK Independence Party (UKIP) activist has resigned from his position as chairman of the party's LGBT group ahead of the general election, citing the leadership's failure to be "gay friendly."
Tom Booker announced his resignation in a tweet: "Last night I stepped down as Chairman of LGBT in UKIP and gave up my membership of #ukip. I'll remain unaffiliated…for now ;)." He also gave up his party membership. Booker had led the LGBT group for three years.
In a tweet on Tuesday, he cited his disillusionment with the party's "non-Classical Liberal manifesto."
He later expanded on the reasons behind his resignation, saying UKIP leaders failed to set a "gay-friendly tone."
Flo Lewis, who has replaced Booker as chairperson, said in a statement that she is "honored" to take on the role.
Booker's sudden decision comes less than three months before the UK general election.
When asked on Twitter why he was stepping down, he replied: "Very simply, I found that I couldn't defend the party or convincingly campaign for it anymore."
Booker did not respond to those on Twitter asking him to explain what he meant by "Classical Liberal."
Speaking to PinkNews, Booker said: "I stepped down from my position as Founder-Chairman of LGBT* in UKIP, and resigned my membership of UKIP, due to disillusionment of policy direction and dissatisfaction at the failure of the leadership to set a gay-friendly tone."
Last night I stepped down as Chairman of LGBT* in UKIP and gave up my membership of #ukip. I'll remain unaffiliated...for now ;-)

— Tom Booker (@thomasbooker) February 24, 2015
"I also now wish to focus more time on my career development and personal life," he added.
"I am proud of my contribution to UKIP. The new LGBT* in UKIP committee is excellent, and I hope that the enthusiasm and dedication of the committee will take the group to new heights."
"I would like to wish them all the best."
In a statement posted on the Facebook page of LGBTQ*, the group thanked Booker for "all his hard work." It went on to announce the election of Flo Lewis as the new chair in a unanimous vote.
According to the statement, Lewis joined UKIP in 2013.
"Flo delivered training sessions to her Brighton UKIP branch on diversity and has headed fundraising events in aid of leukemia while raising awareness of inequality of blood donation regulations," the statement said.
READ MORE: 'Jaw dropping': Sacked UKIP councilor has problem with 'negroes' because of their 'faces'
UKIP members have faced criticism in the past for sharing homophobic views. The party recently backtracked over a decision to select a well-known anti-gay Christian preacher as a candidate in Coventry South.
George Hargreaves had previously claimed that bisexuality is "sinful" and that gays should "repent and turn to Christ."
UKIP quietly dropped Hargreaves and reinstated the previous candidate, Mark Taylor.
UKIP also sought to distance itself from David Silvester, a party councilor who blamed serious winter flooding on the government's decision to legalize gay marriage.
Silvester said that Prime Minister David Cameron had acted "arrogantly against the Gospel."
He claimed the bad weather that Britain experienced during the winter of 2013-2014 was God's retribution.
"I wrote to David Cameron in April 2012 to warn him that disasters would accompany the passage of his same-sex marriage bill," he wrote in a letter to his local newspaper.