Pegida UK leader resigns ahead of Newcastle march, claim opponents
Published time: 25 Feb, 2015 17:11
Edited time: 25 Feb, 2015 19:00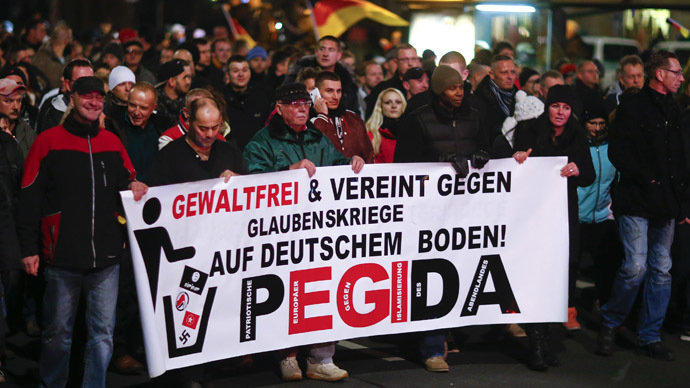 Matthew Pope, the official spokesman for Pegida UK, has stepped down from his role in the far-right group, opponents of the group claim. A spokesman for the group says Pope is merely taking a step back from media coverage.
Pegida, which translates from German as Patriotic Europeans Against The Islamization Of The West, has staged rallies thoughout Germany and drawn thousands to the streets, both in support of its aims and to oppose it.
READ MORE: Pegida plan to march in Britain against 'Islamization of the West' condemned by activists
It is due to hold its first UK rally on Saturday, which will be opposed by community groups, trade unionists, anti-fascists and political parties organized around Newcastle Unites.
Speaking to RT, Dipu Ahad, a Labour Party councillor and organizer of the anti-Pegida march for Newcastle Unites Against Pegdia, said:"We've heard that Matthew Pope has stepped down. People in Pegida have confirmed this."
"For us, we welcome the fact he's stepped down, but we would like the whole of Pegida to disappear."
"What's happened here, is that Pegida claims that I forced Matthew Pope out. They said I had got to him. I think what they mean is that our campaign got him."
Breaking News!! Matthew Pope, the lead of Pegida UK has resigned

— Newcastle Unites (@NewcastleUnites) February 25, 2015
"There's no chance for them in Newcastle. The city is united [and] we've got national support. There was a clear message Pegida are not welcome. Our campaign has done a really good job showing unity, we've exposed them for who they are."
READ MORE: Pegida UK promoter has ties with far right, wants to 'ban Islam'
"Matthew Pope has left with his tail between his legs. It's the end of Pegida after Saturday, when they realize the level of opposition we have here."
Ahad also said: "Apparently two women have taken [Pope's] place." The Labour councillor did not know their names.
Pegida UK responded defiantly to news of Pope's resignation. Replying to a public tweet by Newcastle Unites, they said: "Sorry we are more alive than ever."
When RT approached the official email account of Pegida UK for comment they denied reports of his resignation.
An unnamed spokesperson said: "He hasn't resigned. He is taking a break from the media."
@Durham_UAF@NewcastleUnites sorry we are more alive then ever

— Pegida UK Official (@PegidaUKGroup) February 25, 2015
Last month Pope was found to have social media links with far-right organizations, despite saying that Pediga "would not want to associate ourselves with them."