Serving teen soldier who fled to fight against ISIS found 'safe and well'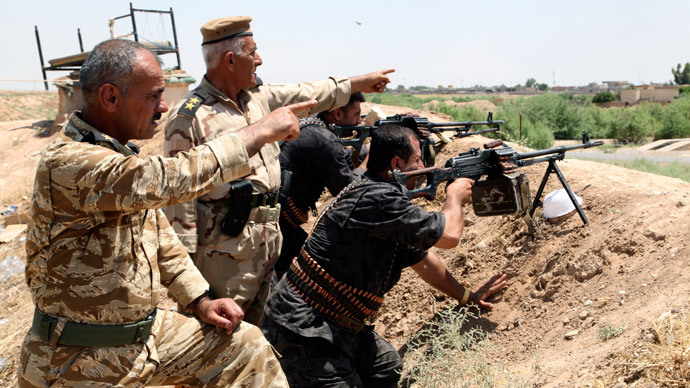 The serving teenage British soldier who traveled to the Middle East to join Kurdish fighters battling Islamic State has been found and is being returned to his unit in Cyprus, Defense Secretary Michael Fallon said.
The 19-year-old soldier, who has not been identified, is believed to have been found somewhere close to the border of Syria or Iraq, and is reported to be "safe and well."
The teen is believed to be the first UK serving soldier to travel abroad to join the fight against ISIS. In November, two former British soldiers were accused of being mercenaries after joining Kurdish fighters in Syria.
The young soldier's disappearance caused alarm for his regiment, the Princess of Wales's Royal Regiment, when he told his family he was going to Syria because "these guys need our help."
He was taking annual leave at the time of his disappearance, so was not declared Absent Without Leave (AWOL).
The soldier's unit was given the task of training Iraqi troops in infantry tactics, but it is not known whether he was posted to Iraq for the mission.
One source said the teenager's family were "over the moon" and confirmed he was "on his way back."
READ MORE:Serving British soldier joins Kurdish fight against ISIS
It was not immediately clear whether he will face disciplinary charges from the military.
The teenager is the latest trained soldier to travel to the Middle East to aid Kurdish fighters. In November two former soldiers were reported to have joined the Peshmerga at the Syrian town of Kobani.
Speaking at a conference after his return, Jamie Read said that to join the Peshmerga he had to undergo rigorous background checks.
He said he contacted the fighting force on the internet, but before traveling he was subject to checks.
"They wanted to make sure I didn't have any connection to Islamic State. After that I got my equipment, and was sent to the front line," he said.
He called the ISIS military operation "disorganized" and poorly trained.
"They are ordinary civilians from various places involved in the conflicts who have to fight. They do not have a choice, and they don't have any information, or even any clear leadership."
Many are "heavily involved in taking drugs, they are so terrified," he added.
He also noted the Kurdish troops were not without their problems
"There is no planning. They say 'let's go this way' and they go that way and they fight. But they are not afraid of IS, they are defending their families and their homes," he said.
"I tried to pass on to them some of the basics of military tactics, but they were not interested, because it was in conflict with their ideology," he added.