3 British teen 'jihadi brides' already crossed into Syria – report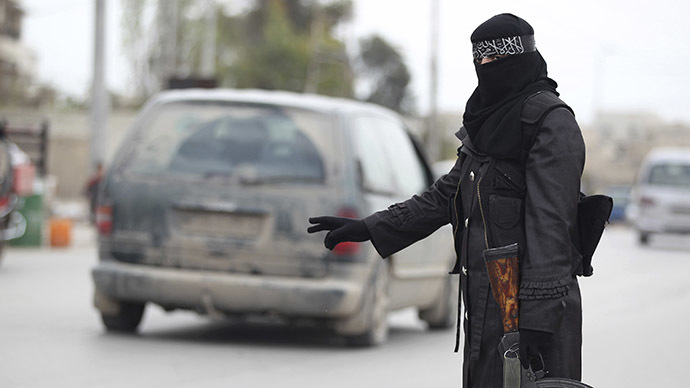 An International search and intercept effort for British teenage 'jihadi brides' has been in vain, as the trio have apparently made their way from Turkey to Syria to join the Islamic State caliphate's cause.
The three girls, all students at Bethnal Green Academy in London, were reported to have flown from Gatwick to Istanbul on Tuesday during their half-term break.
Intelligence sources in Turkey now told the Telegraph that Amira Abase, 15, Shamima Begum, 15, and Kadiza Sultana, 16, crossed into Syria on Friday by car and are presumed to be in the ISIS-run town of Tal Abyad.
"They were seen in Tal Abyad on Friday. They were traveling with a Syrian male in a private car. They were using Syrian identity cards," the source told the publication, claiming the girls stayed in Turkey two days before traveling to Syria.
According to him, upon arriving in Istanbul, the three teenagers were met by an ISIS member "charged with helping foreigners who want to join the group."
Citing an Islamic State source, the Telegraph reports that the English schoolgirls would soon join hundreds of its fighters. Th same source also confirmed that "a smuggler" would help the girls find their way into jihadist territory.
It remains unclear how the girls became radicalized enough to take the step of traveling to Turkey. At least one of the girls was reportedly in contact on Twitter with Aqsa Mahmood, who left Glasgow to join IS in November 2013 after becoming radicalized.
READ MORE: 3 British school girls fly to Turkey, aim to 'become Jihadi brides' in Syria
British authorities sounded the alarm over the missing girls earlier this week, calling for an international search. Their parents have urged the kids to come home. All have issued statements imploring their children not to fall into the hands of the jihadists.
"We miss you terribly and are extremely worried about you... We want you home with us. You belong at home with us....Syria is a dangerous place and we don't want you to go there.... You are not in any trouble," the Shamima family said in a released statement.
Mahmood's family, whose daughter is allegedly responsible for luring the teens, said UK security services had "serious questions to answer" over her alleged contact with the missing girls because her social media has been monitored since her disappearance, ITV reports.
On Saturday, the British Prime Minister, David Cameron urged schools across the country to recognize how important they are in the "fight against Islamist extremist terror."
ISIS: Family of 'jihadi bride' Shamima Begum makes emotional appeal for her to come home http://t.co/LFs0o7K2Tlpic.twitter.com/FyKdgptNj9

— Daily Mirror (@DailyMirror) February 21, 2015
"It needs every school, every university, every college, every community to recognize they have a role to play. We all have a role to play in stopping people from having their minds poisoned by this appalling death cult," Cameron said.
Pakistani-born British Labour Party politician Yasmin Qureshi told the Guardian that some British youths believe that by joining ISIS, they were somehow help fight Western imperialism in the Middle East – a thesis she blatantly disagrees with.
"It needs to be explained that not only are ISIS not following the Koran, but that the majority of their victims are innocent Muslims," Qureshi said in an effort to dispel the illusions held by some young British Muslims.