'Beyond diplomatic ethics': Moscow rejects UK comment that Russia is threat to Baltics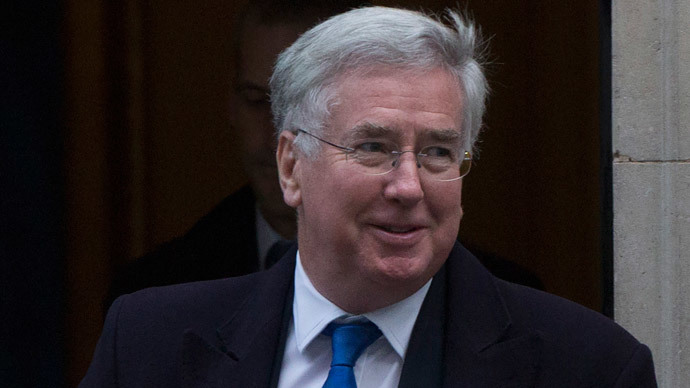 Russian President Vladimir Putin may seek to destabilize the Baltic States of Latvia, Lithuania and Estonia, Defence Secretary Michael Fallon has warned. Moscow labeled his statements "unacceptable."
Speaking to journalists from the Telegraph and the Times on a flight to Sierra Leone, Fallon admitted he was "worried about Putin," saying the Russian president posed a "real and present danger."
Fallon's words "are beyond diplomatic ethics," Russian Deputy Foreign Minister Aleksandr Lukashevich said in a statement.
"His absolutely unacceptable characteristics of the Russian Federation remind me of last year's speech of US President Barack Obama before the UN General Assembly, in which he mentioned Russia among the three most serious challenges his country was facing. I believe we will find a way to react to Mr. Secretary's statements," the Russian diplomat warned.
The British secretary's concerns come after Prime Minister David Cameron called upon European allies to threaten Russia with further economic sanctions, which could last for "years to come" if the Kremlin doesn't stop intervening in Ukraine – allegations denied by Moscow.
READ MORE: Kiev says troops withdrawn from Debaltsevo, rebels claim military 'surrender en masse'
Fallon told journalists he feared Putin would seek to destabilize Baltic NATO members. He said pressure could involve cyber-attacks, irregular troops and generating tensions with Russian minorities in the country.
"Those Russian-backed rebels in eastern Ukraine, they are using Russian rocket launchers, Russian tanks, Russian artillery, you can't buy this equipment on eBay, it hasn't come from somewhere else, it's come from Russia and we know that," he said.
"So we have to be very firm and strong about the sanctions and say to Vladimir Putin: 'What you are doing is unacceptable and it will have economic and financial consequences for many years to come if you do not desist with your behavior.'"
"NATO has to be ready for any kind of aggression from Russia, whatever form it takes. NATO is getting ready," he added.
READ MORE: Don't put pressure on Putin, ex-MI6 chief warns
The Defence Secretary's comments are at odds with those voiced by the former MI6 Chief, who said on Monday that ramping up political and military pressure on Putin could lead to a change of Kremlin leadership which "may well be for the worse."
Speaking to War Studies students at King's College London, Sir John Sawers said action taken by Western governments over the crisis in Ukraine might provoke Putin, and lead to an even deeper crisis in the area.
Sawers, who recently retired from the post of Britain's chief spymaster, said Putin wanted to use Russia's nuclear capability as a projection of raw strength. He also said that while the country may be asserting itself, the West must "deal with the Russia we have. Not the Russia we'd like to have."
"The Ukraine crisis is no longer just about Ukraine. It's now a much bigger, more dangerous crisis, between Russia and Western countries, about values and order in Europe," he said.
You can share this story on social media: