Don't put pressure on Putin, ex-MI6 chief warns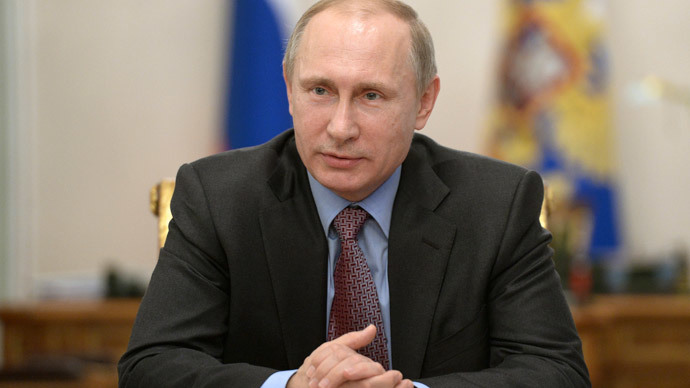 The former head of MI6 has warned against ramping up political and military pressure on Vladimir Putin, claiming any potential change of power in the Kremlin "may well be for the worse."
Speaking to War Studies students at King's College London, Sir John Sawers said action taken by Western governments over the crisis in Ukraine might provoke Putin, and lead to an even deeper crisis in the area.
Sawers, who recently retired from the post of Britain's chief spymaster, said Putin wanted to use Russia's nuclear capability as a projection of raw strength. He also said that while the country may be asserting itself, the West must "deal with the Russia we have. Not the Russia we'd like to have."
"The Ukraine crisis is no longer just about Ukraine. It's now a much bigger, more dangerous crisis, between Russia and Western countries, about values and order in Europe," he said.
Raising a cautionary note, he said the West "could take on Moscow, stepping up our response, provide weapons to Ukraine so it can defend itself, more stringent sanctions. But how would Mr Putin respond?"
READ MORE:Desperately seeking spies: British intelligence is advertising for Russian-speaking spooks
He described the reaction as a game of one-upmanship, not dissimilar to Cold War tensions.
"As long as Mr Putin sees the issue in terms of Russia's own security he will be prepared to go further than us. So he would respond with further escalation on the ground. Perhaps cyber-attacks against us. We have thousands of deaths in Ukraine. We could start to get tens of thousands. Then what?"
He praised German Chancellor Angela Merkel's diplomatic approach to peace negotiations, saying she deserved the full support of the West. "Once we have calm – if we have calm – we'll need a new approach to co-existence with President Putin's Russia," he added.
He warned that pushing Putin out of power could lead to worse international relations in the future.
READ MORE:Military cuts would encourage 'forces of oppression' – ex-NATO chiefs
"The convergence between Russia and the West which we had hoped for after the Cold War won't happen while he is in charge. We now know that. Any foreseeable change of power in Russia may well be for the worse. Managing relations with Russia will be the defining problem in European security for years to come."
His comments come as pressure is applied to Chancellor George Osborne and Prime Minister David Cameron to commit to the NATO target of spending two percent of GDP on military budgets.
On Monday, two former NATO chiefs warned that a failure to meet the target would send a poor message to European allies, and encourage international aggressors.
"It would send, not least under current circumstances, a very, very bad signal to Russia, to terrorists, to others – an indication of what I would call retrenchment and retreat."
"It is quite the opposite [of what] we need right now. We need free societies, the liberal democracies, to step up to the plate and demonstrate a clear economic commitment to defense and security," former NATO chief Anders Fogh Rasmussen told the Telegraph.
You can share this story on social media: