​Ex-MI6 chief urges debate over Libya intervention after ISIS beheads Coptic Christians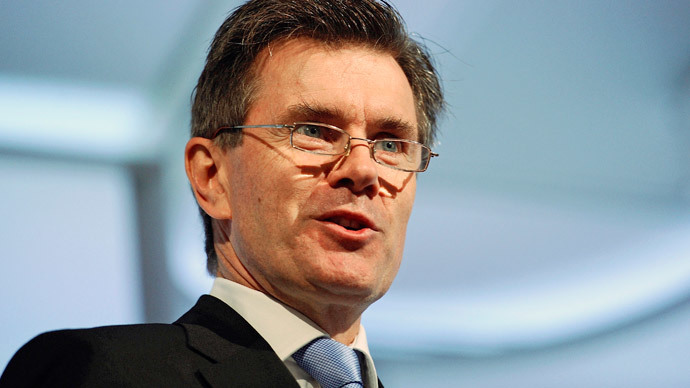 Britain should consider a military intervention in Libya, the former head of MI6 has suggested, following the beheading of 21 Coptic Christians by militants linked to the Islamic State in the North African state.
Sir John Sawers called for a debate about military action in Libya. He said the country had descended into "growing chaos" after Britain joined US airstrikes to bring down Colonel Muammar Gaddafi's regime.
Although the intervention brought about the overthrow of Gaddafi in 2011, the country was left isolated in the aftermath, without any foreign assistance to foster stability.
"After Gaddafi was ousted, no one held the ring to help manage a transition to something better, as the US, Britain and other allies had done in Baghdad and Kabul," Sir John said in a speech at King's College, London.
"Libya had no institutions. Who or what would take over? The answer? Those with the weapons. Result? Growing chaos, exploited by fanatics."
Egypt has launched airstrikes against Islamic State targets in Libya after militants released a video showing the beheading of 21 Egyptian Coptic Christians, who the group had held hostage for weeks.
Sir John, who stepped down as Britain's spymaster last year, said Britain needs to hold a debate on whether it's wise to intervene, given the UK's troubled interventions in Iraq and Afghanistan.
"In the wake of Iraq and Afghanistan Britain is pulling back from international intervention, just as America pulled back after the Vietnam War," said Sawers.
"Yes, intervening has huge risks and costs. Not intervening also has huge risks and costs. Afghanistan and Iraq? Or Syria and Libya? Which outcome is worse? Perhaps it's too early to say. We need to have that debate."
READ MORE:Egyptian, Libyan airstrikes on ISIS targets in Libya after terrorists behead 21 Copts
Looking closer to home, he said the terrorist threat had risen since 2013, describing the attacks by Islamist extremists in France and Denmark as "shocking, but not unexpected."
Islamist extremism across the Middle East and the recent terrorist events in Paris and Copenhagen has had a disastrous effect on Muslims, he said. Sawers further claimed the problem could only be solved by the Islamic world itself.
Prime Minister David Cameron also condemned the recent beheadings of Egyptian Christians. He warned Libya must not become "a safe haven for terrorists."
He said the UK must remain "steadfast" in efforts to defeat the Islamic State and bring a political transition in Libya through the UN.
READ MORE:Egypt President Sisi urges UN intl coalition to intervene in Libya
Meanwhile, the Egyptian ambassador to the UK, Nasser Kamel, told the BBC Libya was a problem for Europe because of its proximity to the continent.
"[There are] boat people who go for immigration purposes and try to cross the Mediterranean," he said. "In the next few weeks if we do not act together, there will be boats full of terrorists also."
Egyptian Coptic Christians are the largest Christian community in the Middle East, with an estimated 10-15 million members in Egypt – around 10 percent of the population. There are around 20,000 Coptic Christians living in Britain.
General Bishop of the Coptic Orthodox Church in the United Kingdom, Bishop Angaelos, said: "We have met this news with sorrow and disbelief – although people saw this coming there was a hope that something could be done to change the outcome. When it came it was so heartless and inhumane."
Father Antonious Thabet, a priest at St Mark's church in Kensington, told the Guardian: "We are very scared, some people in my congregation have said they are scared to be in the UK – these people are everywhere.
"There is anger against leaders who did nothing. They have to do something, saying that we are sorry this had happened is not enough."
You can share this story on social media: