'Disgusting behavior': Outrage as Selfridges installs 'anti-homeless' spikes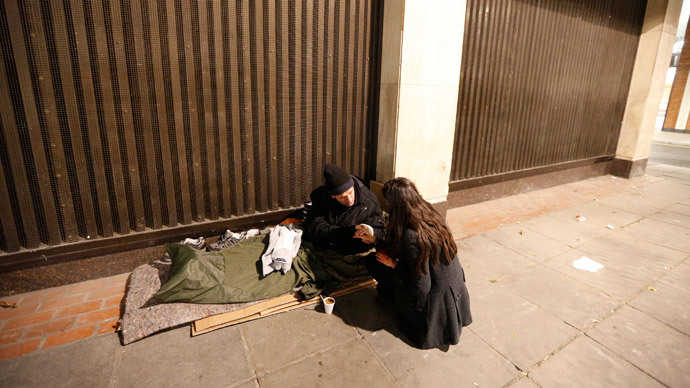 The UK's biggest department store, Selfridges, has provoked outrage after it installed "disgusting" anti-homeless spikes outside its Manchester branch.
"Anti-homeless" metal spikes placed outside the Manchester department store make it impossible for homeless people to sleep there.
Residents in the area have confirmed homeless people "used to sleep" in the exact same place where the spikes are now situated.
Homeless spikes? In Manchester outside Selfridges. Disgusting. pic.twitter.com/4esdGZFgWz

— Alanya (@ALouCoo) February 13, 2015
This isn't the first time these "inhumane" spikes have sparked controversy in the UK.
Last June, the metal spikes caused a stir on social media when they were placed outside luxury apartments in London.
Following public outrage, London Mayor Boris Johnson ordered the "ugly, self-defeating and stupid" fixtures be removed from the buildings.
The spikes outside the London apartments were removed following protests and a petition which reached over 130,000 signatures.
Furious campaigners have launched a fresh petition against the "intimidating" spikes outside the Manchester department store.
READ MORE:Anti-homeless spikes installed in posh London neighborhood spark outrage
Academic Cathy Urquhart, who launched the change.org petition, said: "We should be looking after the homeless, not demonizing and scapegoating them."
Urquhart told the Manchester Evening News she was "shocked" when she saw the spikes.
What looks like anti-homeless spikes outside @Selfridges, Manchester city centre. How pleasant of them. pic.twitter.com/i0QnSIVQaT

— Ros Ballinger (@hurricane_ros) January 24, 2015
A petition signatory, Richie Young from Blackpool, commented on the page: "Being homeless is not a crime."
"Damn this Government of the Rich for the Rich," Young added.
"If a company of this size and wealth can offer no better contribution to Manchester's homeless problem than to build themselves a fortress then I won't spend my money there," a signatory from Manchester said.
READ MORE:London Mayor Johnson calls for 'ugly, stupid anti-homeless' spikes to be removed
However, a spokesperson for Selfridges told IBTimes UK that the spikes were put in place "as part of a number of measures to reduce litter and smoking outside the store's team entrance, following customer complaints."
@Selfridges absolute disgrace you have put anti homeless spikes outside your manchester store!

— Jenna gibbon (@jengib91) February 15, 2015
Jacqui McClusckey, director of policy and communications for Homeless Link, said: "Sleeping on the streets is dangerous, bad for your health and individuals need support."
You can share this story on social media: