'You guys used to be slaves': Racist London tube video investigated by police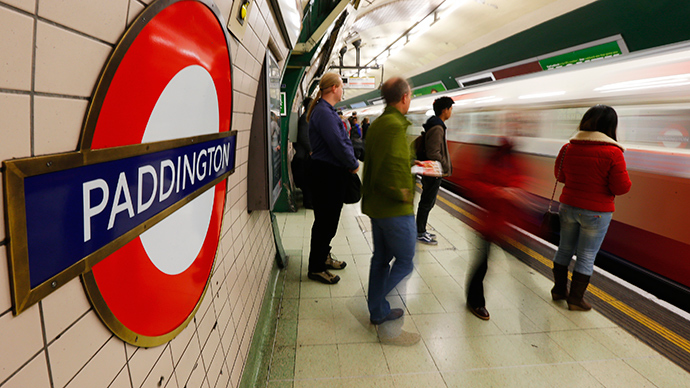 British Transport Police have launched an investigation into the video of a London Underground argument, during which a woman apparently told a black man that his ancestors "used to be slaves." The footage was posted online last year.
READ MORE: UK store Argos criticized for racism: 'Nasty' economic system slammed
The incident between a white woman and a black man took place on the Jubilee line subway train between Stratford and West Ham stations, The Independent reported.

The quarrel apparently began after the two accidentally bumped into each other and the woman reacted by saying "Don't touch me." The man was apparently offended by the reaction, and began shouting at the female passenger, blaming her for being racist.
"You called me racist? I'm not racist. That is why people have a problem with you guys. I have black friends. I'm not racist," the woman is heard saying on the video.

The male passenger continued shouting, leading the woman to say: "It's not about the skin. You can be pink. As long as you behave [like] a human being, then I wouldn't have a problem with that."

"You have a problem because you guys used to be slaves," she said. At this point, other passengers on the train became angry, shouting at her to "shut up." One person said, "You can't say that. This is England!"

The man then rose from his seat and asked the lady: "Did you just call me a slave?" five times in a row.

The woman said that she didn't, prompting the male passenger to say that the woman has "mental problems."
READ MORE: Britain's far-right 'weakest' in 20 years
The argument continued for around two minutes, with no one expressing support for the woman.

"You're a piece of s**t. Honestly, I'm fed up with you guys," she eventually said, before walking across the carriage and out of shot.

The video was posted online on March 3, 2014, with British Transport Police opening an investigation nearly a year later.

"Officers are currently analyzing the video and are appealing for the person who recorded it to come forward," a police spokesman said on Friday. Witnesses of the incident have also been asked to contact British Transport Police.
You can share this story on social media: