​UK foreign aid spending 'not fit for purpose' – report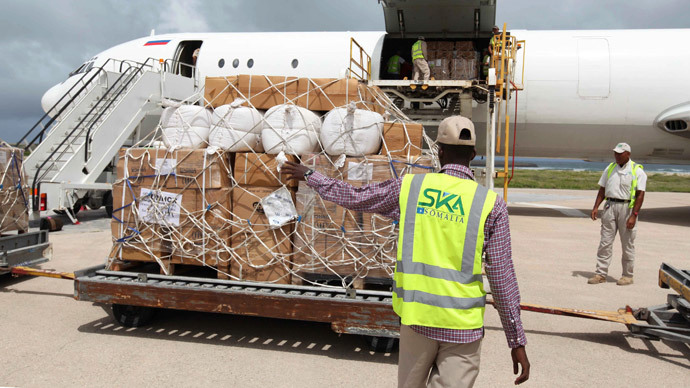 Britain's foreign aid budget is growing at such a rate that ministers are "struggling" to use it properly, a new report suggests, as politicians are criticized for spending too much on overseas development.
The report, published Thursday, warns that the Department for International Development (DfID) would be unable to efficiently spend a 30 percent increase in its budget, with some funds likely to go into unplanned or underdeveloped projects.
The report was produced by the Independent Commission for Aid, which said there was "limited evidence" that the increase in capital made a tangible benefit to countries in need of development aid.
The increase comes in real terms, as the Conservative-led government maintains its pledge to ring-fence the foreign aid budget to around 0.7 percent.
The ring-fence means the government spends around £3.4 billion in the poorest countries, although much of this money is funneled through NGO's and private firms operating overseas.
The report says DfID's plans are "not fit for purpose" and that it needs to focus on "spending well, and not just more."
Taxpayers Alliance CEO Jonathan Isaby told the Mail Online that the 0.7 percent ring fence was a mistake, which needed to be reassessed.
EU to miss historic aid pledge. @DFID_UK & #UKaid leads the way. Full analysis http://t.co/TQIW3A3vTT#AidWatchpic.twitter.com/zSd1QXZaeY

— Bond (@bondngo) November 20, 2014
"It is deeply depressing that British taxpayers' money isn't delivering positive outcomes for the world's poorest," he said.
"Ludicrous spending targets are making it almost impossible to target aid in the right places, and clearly the department is only just catching up to its responsibilities."
Isaby also urged the government to "ditch arbitrary targets, which do nothing to increase effectiveness of aid and encourage spending above and beyond what the department is able to monitor."
While DfID has defended its budget, arguing the money is needed for important infrastructure projects and to fund education for marginal groups, critics of the department say aid money actually benefits dictators and criminals, while also heightening "tensions" among social groups.
READ MORE:Mandatory overseas aid law 'bizarre' – UK foreign secretary
"The UK set ambitious targets in 2010 and we are now seeing results," DfID said in response to the report.
"From supporting female provincial councilors in Afghanistan to training government officials in districts liberated from Al Shabaab in Somalia, our work in fragile states is improving millions of lives and creating a safer world," they added.
Last month, DfID was criticized for its failure to scrutinize the Private Infrastructure Development Group (PIDG), an agency which funds aid projects overseas.
The cross party Public Accounts Committee found nearly £20 million had been sent by the PIDG to a Nigerian company owned by the notorious money launderer Jamies Ibori, and accused the organization of failing to conduct background checks.
You can share this story on social media: