​Mandatory overseas aid law 'bizarre' – UK foreign secretary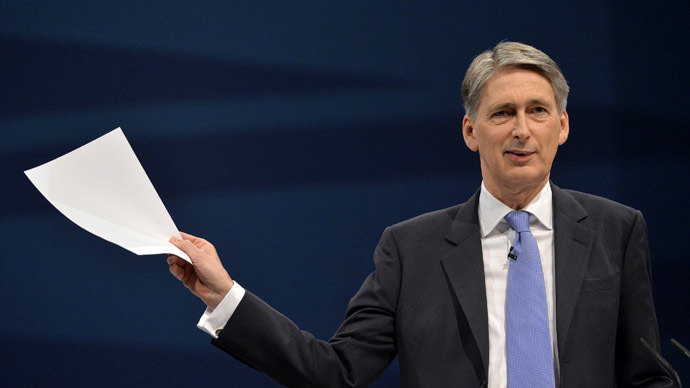 Foreign Secretary Phillip Hammond has rejected a proposal to enshrine a foreign aid target, set out by the United Nations (UN), in UK law. He described the proposed bill as "bizarre."
The policy shift would make it a legal obligation for the UK to donate 0.7 percent of its GDP to overseas aid. Hammond's flat rejection of the bill signals the death of Prime Minister David Cameron's former pledge to make Britain's commitment to the UN foreign aid target mandatory.
Earlier this year, the Liberal Democrats tabled a bill to officially place the UN target on Britain's statute book, and called for cross-party support for the legislation. However, the foreign secretary's comments may well spark a feud with Nick Clegg's party and ramp up existing coalition tensions.
Such a law would make it obligatory for the British government to spend over £12 billion on foreign aid annually.
Probed on the measure while visiting a British-funded Ebola hospital in Sierra Leone, Hammond dismissed the suggested law. He argued the bill isn't required because Britain is already meeting the foreign aid target set out by the UN.
"Trying to enshrine it in law – it's a bizarre idea," the Foreign Secretary told the Daily Telegraph. "We've done it. We're doing it. You don't need a law to say we're doing it."
Hammond's comments came as a surprise to MPs and campaigners, as 2013 marked the first time Britain had met the UN's foreign aid target. His comments also coincide with mounting criticism of Britain's way of giving overseas aid.
Speaking in Sierra Leone, he claimed UK voters are "skeptical" about state spending on overseas aid.
Hammond said such skepticism is rarely directed at "emergency aid," such as vital food supplies, disaster and earthquake relief, but more so at Britain's longer-term foreign aid programs centered on overseas investment.
International development groups warn millions of UK pounds intended for overseas aid are being siphoned off annually by corrupt governments in developing states.
Others warn billions of UK overseas aid, supposedly intended for projects in developing states, are being channeled through tax havens "shrouded in secrecy." Since 2000, the UK government routed in excess of $3.8 billion worth of foreign aid through such secrecy jurisdictions, a report by the European Network on Debt and Development (Eurodad) recently revealed.
Lawrence Cockroft, a UK development economist and anti-corruption advocate, says secrecy jurisdictions are a haven for illicit capital flows that tend to stem from corruption. Cockroft warns corruption plays a key role in exacerbating global poverty and inequality, and is often directly responsible for creating "failed states."
But the foreign secretary stressed the British tax payer must accept Britain's foreign aid expenditure because it helps to protect nations from international crises like Ebola.
Hammond added that Britain's withdrawal of troops from Afghanistan had freed up military resources, which can be employed in assisting states in crises such as Sierra Leone.