'Viagra ice cream' & bondage emergencies: Kinky UK braces for 50 Shades of Valentine's Day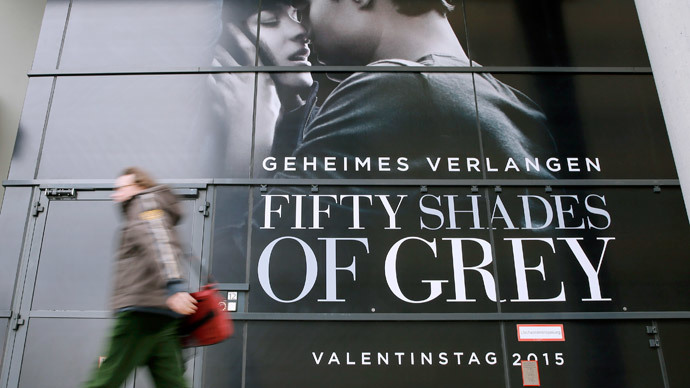 With the cinema release of "Fifty Shades of Grey" planned for Valentine's Day, UK firms are cashing in on the nation's newfound sexual deviance. Meanwhile, emergency services are on standby for a spate of "bedroom antics-gone-wrong."
It was revealed Tuesday that hardware store B&Q was preparing its staff and stocks for a spike in cable tie, rope and duct tape sales, as featured in Fifty Shades.
Another company tapping into the nation's arousal, meanwhile, is London-based firm "The Licktators," which has launched an aphrodisiac ice cream especially for women, described as giving "women's sexual appetites a deliciously natural boost."
The "intense female Viagra ice cream," or "Vice cream," as the company dubs it, contains "a wicked triple-ripple of aphrodisiacs" – namely Ecuadorian chocolate, plant-based pleasure enhancer Lady Prelox and British whipped cream.
The chocolate will supposedly stimulate the release of serotonins, while natural pleasure-enhancer Lady Prelox will encourage blood flow to the erogenous zones. The whole experience is said to be made more sensual with the addition of whipped cream.
READ MORE:Fifty Shades of… DIY: B&Q to stock more kinky restraints for 'mummy porn' film release
Miss Whiplash, head of The Licktator's Whipping Room, said they hope to see women "screaming for Vice Cream on Valentine's Day."
"For many women, eating chocolate ice cream is already a sensual experience. So we thought why not turn the volume up to 11 and give all the lovely ladies out there a big, raunchy boost."
"Whether you think you need it or not, or you simply fancy recreating the ice cream scene from Fifty Shades of Grey, bringing Vice Cream into your life can only make your sex life saucier," she added.
If enjoyment of this chocolaty aphrodisiac gets out of hand, resulting in some "sticky" situations, firefighters are ready to slide down their fire station poles and rush to the rescue.
The London Fire Brigade say they are "concerned" the release of Fifty Shades of Grey in cinemas will lead to a "spike" in cases of people stuck in handcuffs and rings.
They attended nearly 400 such incidents since April last year, including 28 involving entrapment in handcuffs and the removal of nearly 300 rings, some from male genitalia. They have also been called out to aid men whose penises have been trapped in toasters, vacuums and other household equipment.
READ MORE:Boycott 50 Shades of Grey for 'glamorizing' domestic violence, say activists
Dave Brown, from the London Fire Brigade, said he hoped cinemagoers would use handcuffs and other equipment safely.
"The Fifty Shades effect seems to spike handcuff incidents so we hope filmgoers will use common sense and avoid leaving themselves red-faced," he said.
In spite of the increased interest in sexual dominance, however, a poll revealed on Thursday that the appropriately "vanilla" missionary position is still the most popular in the UK.
A survey of 2,157 British men and women found the favorite sexual position in the North East of England was the "Reverse Cowboy," while Londoners preferred to "stand up."
Disappointingly for the land of the brave, Scots were revealed to prefer "spooning" to actual sex.
Scotland's lack of adventure in the bedroom was made up for by the South East of England, however, who on average ranked themselves 9 out of 10 on a scale of how "kinky" they are in the bedroom.
You can share this story on social media: