Thousands raped & sexually abused in British prisons – report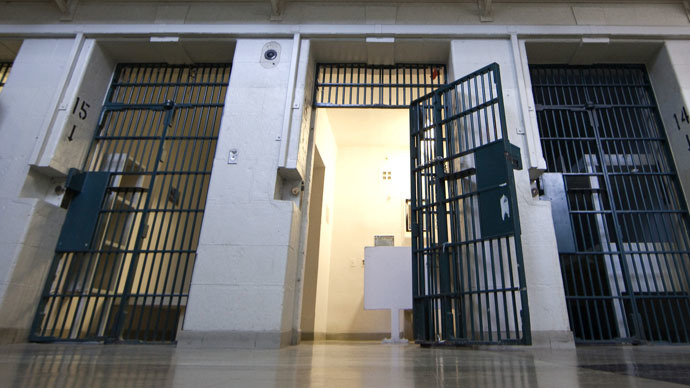 Thousands of prisoners may have been raped or sexually abused in UK prisons, with much abuse being hidden or underreported, a report from the independent Commission on Sex in Prison has revealed.
The report, completed for the commission by the Howard League for Penal Reform, showed that 1 percent of prisoners had been raped and 5.3 percent were victims of coerced sex.
Extrapolating from prison population and reception figures, this means that between 850 and 1,650 prisoners could be victims of sexual assault while in prison.
They further found that levels of rape and assault in prisons have been on the rise and in 2013 were at their highest level since 2005.
The report on behalf of the Commission on Sex in Prison – made up of academics, former prison governors and health professionals – is thought to be the first major review of the issue in England and Wales.
READ MORE:1 killing a week committed by people released on bail
The Prison and Probation Ombudsman (PPO) told the commission that the prevalence of sexual abuse was "a hidden issue in a hidden world," adding that staff did not always take complaints of rape seriously, leaving the levels of abuse largely underreported.
"[The ombudsman] has found that some abusive sexual behaviors are not always taken sufficiently seriously and the quality of internal investigations is variable," the report said.
"These allegations may also raise serious criminal matters and the prison's PIO [police intelligence officer] should be informed in a timely manner and a police investigation facilitated and, if necessary, encouraged."
The report found that some prisoners used sex to "settle transactions or debts with prisoners when they had no other means of paying." Prisoners do not have direct access to any cash held in their account and the purchase of items or "canteen" from the prison shop is restricted.
One prisoner, James, told the commission: "In the past three months I have witnessed a prisoner grooming and coercing at least two prisoners into sex and buying them things on the canteen or knowing [they are] low on tobacco, bulk buying and then saying to the person who's low on the item if you do me sexual favors I'll give you some tobacco."
READ MORE:'Deeply disturbing': Children held at migrant detention center despite govt pledge
There were also prisoners who said that the "hyper-masculine" and "homophobic" culture, particularly in men's jails, led to prisoners not telling their superiors about rape or abuse.
One prisoner, John, said: "People who are sexually assaulted or raped in prison are very unlikely to say anything because they are too scared, have been traumatized and will be bullied and victimized if they do so. Especially in YOIs (Young Offenders Institutions) where there are many jails that don't have VP wings in order to keep vulnerable prisoners safe."
The report further found that gay and transgender prisoners were at a higher risk of sexual assault than their heterosexual counterparts.
Justice Minister Andrew Selous criticized the figures given in the report as "alarmist."
"Alarmist comparisons drawn off the back of different justice systems in other countries help no one," Selous said, adding that the new secure colleges system introduced by the UK government would "give young offenders the best chance of turning their lives around."
He added: "Why anyone would be opposed to getting young people out of a life of crime like this is hard to fathom."
You can share this story on social media: