​'Contingency plan' needed for Greek eurozone exit – British govt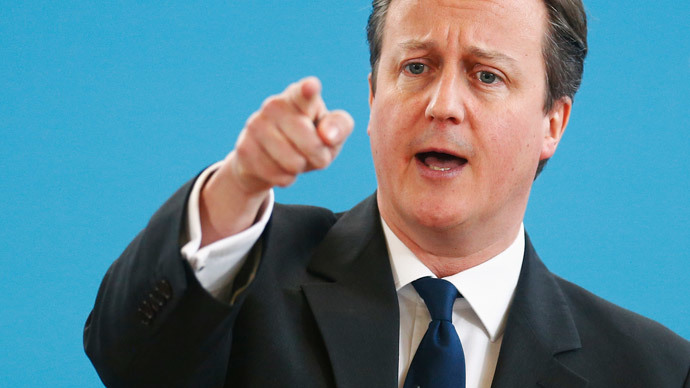 The UK is preparing for a possible Greek exit from the eurozone by taking measures to ensure British banks and companies are not exposed to risk.
Prime Minister David Cameron discussed plans to prepare the UK for a Greek exit from the eurozone with senior Treasury and Bank of England officials at a meeting on Monday.
They debated the possible impact an exit would have on markets and considered potential contingencies for the British businesses thought to be exposed to financial risk.
The meeting follows comments by the former chairman of the US Federal Reserve, Alan Greenspan, who told the BBC: "I believe [Greece] will eventually leave."
"I don't think it helps them or the rest of the eurozone – it is just a matter of time before everyone recognizes that parting is the best strategy."
Greenspan warned this could lead to the collapse of the single currency.
READ MORE:Greek PM says troika bailout failed, will not ask for extension
The UK government has said the standoff between Greece's new anti-austerity government and the eurozone is putting the global and UK economy at risk.
The new government under the left-wing Syriza party has demanded concessions on its debts from the Troika – made up of the EU, European Central Bank and International Monetary Fund.
"That's why I'm going … to the G20 [meeting in Istanbul on Monday] to encourage our partners to resolve this crisis," UK Treasury chief George Osborne told the BBC in an interview on Sunday. "It's why we're stepping up the contingency planning here at home."
READ MORE:Greece's Syriza govt could pose greater risk to global economy than Middle East conflict – Osborne
"We have got to make sure we don't, at this critical time when Britain is also facing a critical choice, add to the instability abroad with instability at home."
"If Greece left the euro that would create real instability in financial markets in Europe," Chancellor Osborne said.
"That's why we have got to avoid this crisis getting out of control, which is why we have got to make sure we have an international effort to resolve the standoff, and here in Britain we step up our contingency planning to prepare for whatever is thrown at us."
You can share this story on social media: