Greece's Syriza govt could pose greater risk to global economy than Middle East conflict – Osborne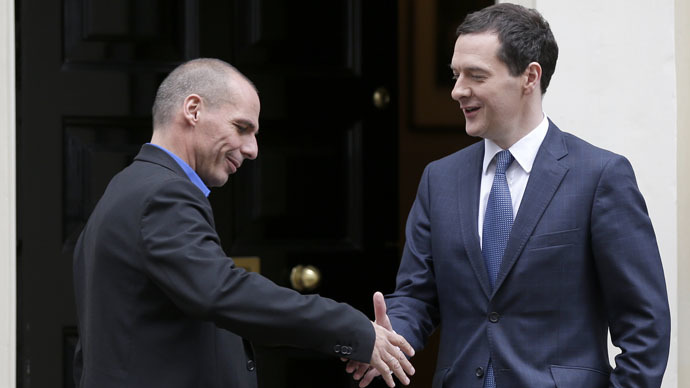 Greece's standoff with Eurozone governments and international creditors poses a greater threat to the global economy than conflict in the Middle East, climate change and rising tensions between Russia and the West, UK Chancellor George Osborne says.
After a meeting with Greece's new finance minister, Yanis Varoufakis, Osborne implored Greece and the Eurozone's 18 other states to act "responsibly" as the newly elected Greek government attempts to renegotiate the country's €240 billion (£180 billion) bailout program.
Since coming to power in late January, the largely leftist Syriza government's challenge to the austerity diktats of EU policy makers has been made clear.
As it continues to collide with Eurocrats over plans to reverse draconian austerity policies and renegotiate the country's debt burden, concern is growing among neoliberal governments and international creditors alike.
Following his meeting with Varoufakis on Monday morning, Osborne said the discussions were "constructive." But he warned that the current impasse between the Greek government, Eurocrats and international creditors poses a serious risk to economic stability throughout Europe.
Osborne said he asked Varoufakis to "act responsibly" when preparing to restructure Greece's social and economic position on a heavily indebted European stage. But he acknowledged the Eurozone needs a "better plan for jobs and growth."
Osborne said the Conservative Party's economic plan for Britain would continue to increase employment levels and growth, and should be loyally pursued through uncertain economic times.
Greece debt standoff: George Osborne urges Athens and Brussels to strike deal http://t.co/0OerPoQIU8 But sits on fence on what sort of deal

— JubileeDebtCampaign (@dropthedebt) February 2, 2015
He warned that tensions between the Greek government and the architects of its IMF-EU imposed bailout pose a "rising threat to the British economy," and that a path of "competence over chaos" in Europe is paramount.
But in contrast to Osborne, US President Barack Obama warned that perpetual austerity in Greece may well backfire against creditors' interests.
"You cannot keep on squeezing countries that are in the midst of depression," Obama told CNN.
"At some point, there has to be a growth strategy in order for them to pay off their debts to eliminate some of their deficits," he added.
Last week, Bank of England Governor Mark Carney sharply criticized austerity policies common to the Eurozone states, warning that the single-currency area was constrained by strangulating levels of debt that could plunge it into years of stagnation.
Following Carney's comments, UK economist and anti-austerity campaigner Michael Burke argued that debt burdens of struggling EU states such as Greece and Ireland are unsustainable, and must be largely written off if real growth is to occur in these states.
Constructive meeting with Greek finance min @yanisvaroufakis.Standoff between Greece & Eurozone fast becoming biggest risk to global economy

— George Osborne (@George_Osborne) February 2, 2015
Unlike Osborne, Greece's new finance minister is not an advocate of austerity.
Central to Varoufakis' pre-electoral mandate was a pledge to address the human price of Greek austerity, a vow to cancel or reduce the nation's bailout burden, and a pledge to tackle the country's oligarchic elites.
As part of a brief tour across Europe following Syriza's election victory, Varoufakis also met with a series of City of London bankers Monday.
He is set to travel to Rome next, where he will speak with Italy's finance minister, Pier Carlo Padoan, and Prime Minister Matteo Renzi.
Syriza is seeking to renegotiate Greece's rescue package in a manner that will link Greek debt repayments to tangible economic growth.
The party's plans have been met with resistance from German Finance Minister Wolfgang Schauble, who warned on Monday that Germany would not accept "one-sided" adaptations of the bailout program.
Commenting on Greece's path forward, Italian PM Renzi said a "great deal of seriousness, caution and responsibility" was needed.
He warned that the Eurozone's debate compass had to shift away from austerity and toward growth.
"We want to change economic policy in Europe, not just for Greece or for another country. We want to shift the debate on economic policy away from austerity and rigor toward growth and investment," he told RTL radio.
George Osborne warns stand-off between Greece & €zone is fast becoming biggest risk to global economy (via Reuters) http://t.co/vRE8JjBSZ1

— Graeme Wearden (@graemewearden) February 2, 2015
As Syriza begins its task of restructuring Greece's political and economic position on a fraught European stage, citizens and leftist parties in heavily indebted EU states will be watching closely.
To date, the anti-austerity government has refused to work with the Troika inspectors responsible for monitoring the state's punitive fiscal restructuring.
Rather, Varoufakis has indicated he wants to directly negotiate with Greece's creditors: the International Monetary Fund (IMF), the European Union (EU) and the European Central Bank (ECB).
Varoufakis' meeting with Osborne follows the Greek finance minister's controversial claim last week that Greece does not want the next scheduled loan of €7.2 billion from the Troika.
Outlining a timetable for a revised bailout agreement, Varoufakis said if Athens could have until the end of February to submit its proposals, it could reach a final agreement with its international partners by mid-April.
You can share this story on social media: