​Jihadists watch porn, are 'literally w*nkers' – Boris Johnson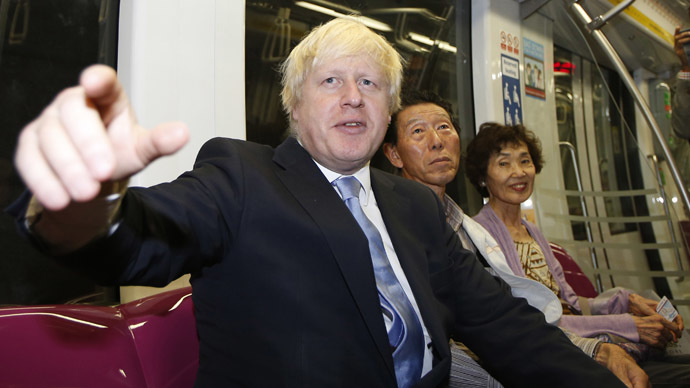 Gaffe-prone London Mayor Boris Johnson has shared a psychological profile of Islamist militants, saying that they turn to violent extremism are "literally w*nkers" who do so because they are "rejected by women."
In an interview with tabloid newspaper The Sun, Johnson said fighters who leave the UK to join Islamic State (also known as ISIS, or ISIL) need to be "demystified." He made his comments based on an MI5 character profile of the "typical" person susceptible to extremism, he said.
Johnson, who intends to run as Conservative candidate for the parliamentary seat of Uxbridge and South Ruislip, said the MI5 profiling showed that jihadists were more likely to watch porn and have poor relations with women, calling them "tortured losers."
"If you look at all the psychological profiling about bombers, they typically will look at porn. They are literally w*****s. Severe onanists."
"They are tortured. They will be very badly adjusted in their relations with women, and that is a symptom of their feeling of being failures and that the world is against them."
"They are rejected by women, they are not making it with girls, and so they turn to other forms of spiritual comfort – which of course is no comfort."
He further compared jihadists to other "vulnerable" young men who would be likely to turn to "drug gangs or other criminal activity."
Johnson added that to tackle Islamist extremism, Western politics must stop blaming the Islamic religion, but added that there was some responsibility with Muslim leaders to provide care and assistance to disaffected youths.
"I often hear voices from the Muslim intelligentsia, who are very quick to accuse people of Islamophobia," he said. "But they are not explaining how it can be that this one religion seems to be leading people astray in so many cases. They are not being persuasive in the right way with these people."
Johnson's words follow a trip to northern Iraq where he met with Kurdish Peshmerga troops fighting against ISIS and posed for photos wielding a Kalashnikov. On the trip, the London mayor said the UK must show solidarity with the Peshmerga, whose "cause is our cause."
The Kurdish fighters have been on the frontline in the battle against ISIS. On Thursday morning, the Peshmerga claimed to have driven ISIS militants out of Kobani, a border town in the Kurdish region, ending a siege which has been ongoing since the summer.
You can share this story on social media: